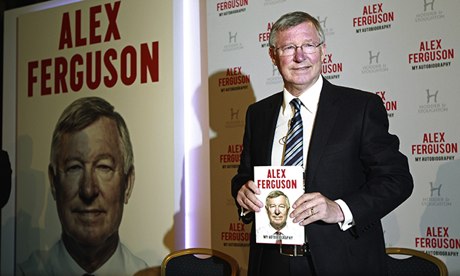 Former Manchester United manager Sir Alex Ferguson looks set to be the bestselling author this Christmas, with his memoir still dominating the market in the latest weekly charts .
Alex Ferguson: My Autobiography, published by Hodder and Stoughton, saw off all competition with sales of 79,548, topping the hardback non-fiction table and outselling titles in all other categories, according to books sales monitor Nielsen BookScan.
Since publication in October, when it attracted the largest number of sales in its first week of any non-fiction book on record, Ferguson's autobiography has become the UK's bestseller of the year, selling 647,153 to date.
Neill Denny, industry expert and former editor of the Bookseller, said: "Ferguson has been the standout book of the autumn. It has done better than the book trade thought. It has had exceptional figures and pretty good reviews. So it is a good gift for, perhaps, the less well-known man in your life: the uncle, someone who comes to lunch once in a while."
Ferguson, who managed United for 27 years, is well above QPR manager Harry Rednapp, whose memoir, Always Managing, took the number seven slot with 21,911 sales in the week to 14 December.
Celebrity memoirs and cookery books dominate, as is usual in the countdown to Christmas.
David Jason: My Life, the memoirs of the actor famous for Only Fools and Horses and A Touch of Frost, was in third place in the weekly charts, selling 56,149 copies.
Eat: The Little Book of Fast Food, by Nigel Slater, the broadcaster and Observer columnist's collection of easy recipes for busy people, was in fourth position, selling 29,072.
The annual yuletide Jamie Oliver staple, Save With Jamie: Shop Smart, Cook Clever, Waste Less, was in eight position, up from 10 on the previous week. It is a relatively modest placing for the chef. Last year his cookbook Jamie's 15-minute Meals gave him his fifth Christmas No 1 – and his third in a row.
Tom Kerridge's Proper Pub Food was in 10th place.
Close behind, and in recognition of the popularity of TV show The Great British Bake Off, its presenter's title, Paul Hollywood's Pies and Pubs, was in 11th position, selling 16,307.
Proving autobiographies remain festive favourites, the boxer Mike Tyson was at number 12 with his warts-and-all Undisputed Truth: My Autobiography. Jennifer Saunders also featured, with Bonkers: My Life in Laughs, in 14th position.
Other top titles included perennial favourite, the Guinness World Records 2014, in second place with sales of 58,829, and Ripley's Believe it or Not! 2014, the annual compendium of bizarre facts and features, in sixth place. Mrs Brown's Family Handbook – a spin-off from the popular TV comedy featuring Brendan O'Carroll as the formidable matriarch, claimed the number five slot.
Denny said: "Jamie Oliver has not been much on television recently, so perhaps that has had an effect." He described the Guinness Book of Records as "a reliable family gift" and added that it was a "brilliant piece of marketing".
Topping the paperback non-fiction was – predictably – Long Walk to Freedom by Nelson Mandela, which rose from number 10 with weekly sales of 18,151.
Philomena: The True Story of a Mother and the Son She Had to Give Away secured second position. By former BBC correspondent Martin Sixsmith, the story of an Irishwoman whose baby was adopted when she gave birth as a teenager in 1952 has been made into a film starring Dame Judi Dench.
Hardback non-fiction weekly chart top 15
1. Alex Ferguson: My Autobiogrphy (Hodder and Stoughton)
2. Guinness World Records 2014 (Guinness World Records)
3. David Jason: My Life (Century)
4. Eat: The Little Book of Fast Food (Fourth Estate)
5. Mrs Brown's Family Handbook (Michael Joseph)
6. Ripleys' Believe it or Not! 2014 (Random House Books)
7. Always Managing, Harry Rednapp (Ebury press)
8. Save with Jamie: Shop Smart, Cook Clever, Waste Less (Michael Joseph)
9. Let me off at the Top! My classy life and other musings by Ron Burgundy (Century)
10 Tom Kerridge's Proper Pub Food (Absolute Press)
11. Paul Hollywood's Pies and Puds (Bloomsbury Publishing)
12. Undisputed Truth: My Autobiography, Mike Tyson (HarperSport)
13. 1,339 QI Facts to Make Your Jaw Drop (Faber and Faber)
14. Bonkers: My Life in Laughs, Jennifer Saunders (Viking)
15.The Moaning of Life: The Worldly Wisdom of Karl Pilkington (Canongate Books)