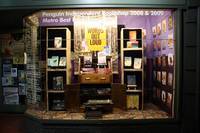 There's nothing quite so magical as a bookstore; the smell of print, the promise of fresh new worlds between crisp white pages.
Sadly, the future of bookstores is becoming precarious. With the advent of Amazon and internet shopping, and E-readers like Kindle, the little local bookstore is somewhat of an endangered species.
Luckily for bibliophiles like me, there are some well-loved little stores that are bucking the trend.
Time Out Bookstore in Mt Eden village is one such store. Opening in 1988, it has a well-deserved reputation as one of the best bookstores in the country. It has a huge range of literary fiction, a wonderful kid's section, and a mind-boggling, eclectic range of non-fiction, with everything from architecture and sport, to travel and religion.
But best of all, it has a cat.
The first Time Out cat, Oscar, was somewhat of a local identity in Mt Eden. He was a big Burmese, who lived the life of Riley, was generally adored and pampered by shoppers and staff, and often seen lounging in the shop window, attempting to lure in passing punters.
Sadly Oscar died recently, but a new kitty, the lovely Lucinda, has taken his place as the store mascot.
The staff at Time Out are great. They are all super friendly and knowledgeable. Their recommendations are spot on – they've introduced me to many great authors over the years.
They keep up-to-date with all the international trends in the book world, and make sure they stock all the award-winners as soon as they're announced. If something is out of stock, they'll order it in for you.
They are open 12 hours a day (9am-9pm), seven days a week, which is great if you're in the village waiting for a takeaways, or for a mate to turn up for a drink.
If you're a book lover, put this on the top of your list of shops to visit, and make a night of it in Mt Eden. What could be better than book shopping followed by a dinner and a drink at one of village's great eateries?
Time Out Bookstore
432 Mt Eden Rd, Mt Eden Village, Auckland
email
books@timeout.co.nz
Ph/fax +649 630 3331 Open 9am - 9pm, 7 days