Children's author and illustrator who created the famous bear family with her husband, Stan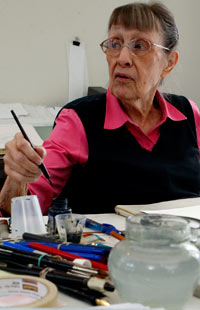 The children's author and illustrator Jan Berenstain, who created the
Berenstain Bears
books with
her husband, Stan
, has died aged 88. The pair worked on more than 200 of the books about a family of pleasingly homely and disarmingly simple bears, which have been breakthrough titles for generations of emerging readers. The style was set in their first title, The Big Honey Hunt (1962): simple storytelling with a strong narrative core and a certain amount of familiarity and predictability, written in easy verse making good use of repetition, rhyme and rhythm. The stories were matched with vigorous cartoonish illustrations. With a nod of knowing sophistication between the storyteller and the reader, the books were witty and stylish rather than babyish.
The Berenstains had already created many cartoon stories for adult readers, including It's All in the Family, which ran in McCall's and Good Housekeeping magazines. Watching their son's enjoyment of the Dr Seuss books, they decided to try their hand at a children's title. They chose a family of bears partly because they found them easy to draw and partly, Stan said, because female bears are "terrifyingly good mothers" while the males are "lousy fathers".
Seuss, whose real name was
Theodor Geisel
, was the editor of the highly successful Beginner Books series published by Random House in the US. The Berenstains took their book to him, and he encouraged them to modernise their folksy art style, make it look more commercial and rework the text extensively.
He published The Big Honey Hunt, but when the Berenstains proposed a whole series about a bear family, Geisel said: "That's the worst thing you could do! It would be like having a millstone around your neck. Do something as different as you can!" They took the advice and worked on a book about penguins. But before they had submitted it, The Big Honey Hunt had sold well and Geisel was now enthusiastic about a series.
Read the full obituary at The Guardian.
Photo above right - Jan Berenstain in 2011. After Stan's death, she worked on the books with her son Michael. Photograph: AP