Alison Flood
-
There's no official word on what her new book will be about, but all the evidence points to a crime story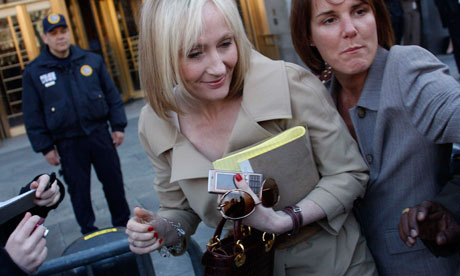 I met Shelley five years ago
when I was writing a profile of him for the Bookseller. He'd already made quite a mark on publishing: he was publishing director of Allison & Busby at just 23. An independent press strong in crime and thriller writing, Shelley dragged A&B back into profit, introducing a line of library hardback crime novels and eventually catching the eye of Little, Brown, which he joined as editorial director for crime and thrillers.
Today, he's publisher. He's created a host of thriller bestsellers: Panic by Jeff Abbott, The Shakespeare Secret by JL Carrell, The Brutal Art by Jesse Kellerman. He's taken over editing major brand-name (crime) authors including Billingham, Nelson DeMille and Duncan Falconer. He's poached some of the biggest names in the genre from rival publishers – McDermid,
Lehane
,
Hiaasen
.
Winning Rowling for Little, Brown, though, is his greatest coup yet. All we know at the moment about the new book is that it's "very different to Harry", as
Rowling tweeted this morning
. (This
"cover" on her agent's website
gives even less away). Knowing her fondness for crime writing (
Dorothy L Sayers is "queen of the genre", she's said in the past
), and taking Shelley's background into account, I'm going to stick my neck out and say it's a mystery. Not a slasher thriller sort of a book, more a Poirot-esque detective story.
The crime world is all aflutter at the prospect, in any event. "Wouldn't it be funny if
JK Rowling
's first novel for adults turned out to be a crime story set in Edinburgh? My word yes,"
tweeted Ian Rankin
. "Might explain why she left the neighbourhood (me, McCall Smith, Atkinson near-neighbours) and moved across town … She's certainly a fan of the traditional whodunit."
"Nice to see that JK Rowling has such good taste in editors. I guess I'm willing to share David Shelley… Do you think her choice of Mr David means she's writing a thriller/crime novel?"
wondered McDermid
, adding: "If Mr David inspires JKR the way he does me, we're in for something rather tasty."
Shelley won't tell me any more, so I guess for now we'll have to wait and see. But I bet you a
Harry Potter
proof that I'm right. And if I'm wrong, I will, erm, eat my sorting hat.