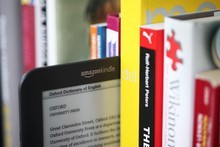 By Andrew Stone - New Zealand Herald - Saturday Feb 25, 2012
Printed works aren't about to be killed off by digital readers just yet, says global publishing expert
The reassuring news about printed books - for those who devour them - is they are not ready to surrender to the digital tide.
That's the perspective of a book lover who reads ebooks and who sits at the top of the world's publishing industry.
Jens Bammel, a German lawyer and secretary general of the International Publishing Association, watches the business of books from Geneva. He likens its condition to surfing an avalanche, given that the irresistible momentum of digital publishing is sweeping all before it.
In areas like trade publishing and highbrow scholarly works, the revolution is complete. Articles go directly online and users subscribe to a database.
The digital market for mainstream fiction, paperbacks and self-help works is big and getting bigger. Erotic titles are popular too. Bammel thinks the attraction might be that "no one sees what you're reading on screen when you're on the tube."
A standout space in bookshops, much to the delight of an industry under pressure, remains filled with cookbooks.
It's the same in Britain, where Jamie Oliver sells titles by the trolleyload, or New Zealand, where self-published Annabel Langbein had two titles in the top 10 last year.
"With cookbooks you are buying something that you can't replicate on a screen," says Bammel.
But publishing cannot survive forever on titles churned out by celebrity cooks. The industry remains under siege on several fronts, nervously watching the next move of Amazon.com and Apple, which typically has a dazzling new piece of technology called iBooks Author - now the target of much online heat.
Full interesting piece at NZ Herald
.
It concludes:
Bammel, 44, inhabits both the digital and the print world. "I read books on my Kindle, my iPhone and my iPad. I still buy paper books and really enjoy going to a book shop and leaving with a pile of books."
Book sales
*
Down 7.2 per cent Decline in Australian book sales in 2011
*
7.2 per cent Decline in British book sales in 2011
*
4.5 per cent Decline in US book sales in 2011
*
0.1 per cent Increase in NZ book sales in 2011
Source: Nielsen BookScan. Note: NZ figure excludes Whitcoulls
Footnote:
Bammel is in New Zealand primarily to address a meeting of the book Publishers Association (PANZ) next week.