Author Dick Bruna, 84, cautious about 'too much interactivity' with his multi-million selling children's books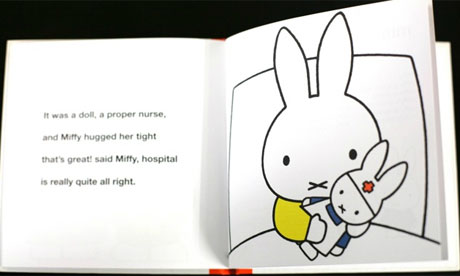 Her distinctive silhouette is recognised around the world. The classic children's books about her have sold tens of millions of copies and
in the Netherlands she has her own museum
. But as Miffy the rabbit joins the digital age with the launch of her first app on Wednesday, her 84-year old Dutch creator Dick Bruna says children should start with old-fashioned board and paper books before they move on to tablets.
"I think babies and toddlers need to get used to books first, feeling the covers and turning the pages, this is part of their learning," he said. "I wouldn't want too much interactivity – something to do on every page for instance – as I think that would make it too complicated for a young child."
He said children get attached to their favourite books and he is often asked to sign chewed and battered copies kept for years. "I don't think you would get the same feelings after playing with an app on a computer. Maybe that is a very old-fashioned view. I hope not."
The Miffy's Garden app for iPad
, for age two and up, lets readers join in with digging, raking and watering, and record their own voices telling the story. Annemiek van Bakel, digital publisher at Sanoma, the Dutch media company that produced it, says "they are not very fast-moving books so the app is not fast-moving either. We really wanted an interactivity that fits with the style of Miffy."
Full story at The Guardian