Musée des Lettres et Manuscrits purchases miniature booklet created by author when she was 14 at auction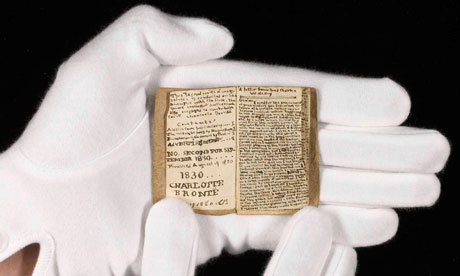 A
Charlotte Brontë
manuscript is heading to France after being sold for £690,850 at Sotheby's in London. The miniature booklet, one of six handwritten "Young Men's Magazines" made by the author when she was 14, was bought by
La Musée des Lettres et Manuscrits
in Paris for more than twice the pre-sale estimate.
The manuscript is set in Glass Town, a fictional world created by the teenage Brontës, and contains 4,000 words over 19 pages small enough to fit in the palm of a hand. Formerly in a private collection and previously untraced, it contains ideas later fleshed out in Brontë's novels.
One scene, says Sotheby's book specialist Gabriel Heaton, anticipates one of the most famous episodes in Jane Eyre, in which Bertha, Mr Rochester's mad wife, tries to kill him by setting fire to the curtains in his bedroom.
The French museum outbid by £20,000 the
Brontë Parsonage Museum
, owned and run by the Brontë society at the writers' former home in Haworth, West Yorkshire. "It's particularly disappointing that this manuscript was in a series," said its director, Andrew McCarthy. "We have four of them at Howarth and the other is untraced. It's a shame that it's not coming back to join the other four."
Full report.