A dialogue between Mary and the infant Jesus, this anonymous carol is suffused with the blissful bond of mother and child - Carol Rumens - guardian.co.uk,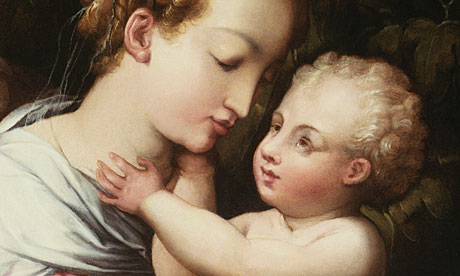 This week's poem is an anonymous medieval carol with a skip in its step. Despite the light touch and the emphasis on bliss of various kinds, earthly and heavenly, "This Endris Night" is also a reminder of the radical nature of Christianity.
Although thought to date from the end of the 15th century, "This Endris Night" reminds me a little of those Italian Renaissance paintings in which the child is depicted as a plump, authoritative and no doubt loquacious toddler. At the same time, the new-born child in the poem rather magically retains his babyishness. He still wants to be handled "full soft" and be soothed by breast and lullaby.
Mary too is an intricate character. Between questions and supplications, she demonstrates an almost humorous, and deeply human, tenderness towards this unusual child. She knows his worth, of course, and she knows her own worth as a loving mother. Thanks to the refrain, we hear her continuing to sing her lullaby as the ballad unfolds. Poems and songs by "Anon" have no doubt been shaped by many mouths, male and female. "This Endris Night" is pervaded by maternal feeling, combined with notes of courtly dalliance. It's a beguiling mix.
Full piece at The Guardian.