Edmund de Waal's last book was an unlikely bestseller about a family heirloom. Now he's written a history of his first love, ceramics. Laura Barnett talks to him about life behind the wheel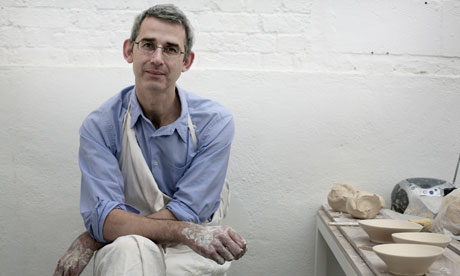 When
Edmund de Waal
was five, he asked his dad to take him to a pottery class. They went. He made a pot. He decided that this was what he wanted to do for the rest of his life. "I remember making that first pot," he says, "and thinking, that's it – that's what my life's going to be about: making pots. I am really lucky because I had that moment. I've never taken it for granted."
Now 47, De Waal has been a potter and ceramic artist for 25 years; respected for decades, but only truly famous beyond the pottery world since the publication, in June last year, of his book
The Hare with Amber Eyes
. In synopsis, the book – a history of a set of Japanese
netsuke
, or miniature carved kimono toggles, bequeathed to him by his urbane great-uncle Iggie – sounds like something destined to gather dust next to
Fly Fishing by JR Hartley
. The reality is anything but dry or arcane: beautifully written and meticulously researched, the book sweeps effortlessly from fin-de-siècle Paris to wartime Vienna to American-occupied Tokyo. Five thousand copies were originally printed; the book has now sold around a quarter of a million copies, been translated into 24 languages, and a film adaptation is in the offing.
When I meet De Waal at his south London studio – pristine white walls, sloping glass ceiling, four potters' wheels in a neat row – I ask him if the book's success has taken him by surprise. He laughs gently. "What do you think? It's unbelievable. Extraordinary."
De Waal's own work as a potter is not central to The Hare with Amber Eyes, though the book is underpinned by his potter's feel for the importance of everyday objects, and their relationship with the people who own them. In his most recent book, however, De Waal has returned to his primary obsession.
The Pot Book
, published by Phaidon, is a weighty compendium of more than 300 pots and ceramic artworks, dating from the third millennium BC to the present day.
Full story at The Guardian