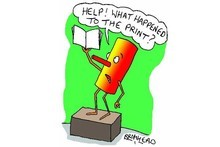 By Peter Bromhead
First published in the Business Herald, Dec 16, 2011
Having experienced calamities with book publishers over the years, I recently decided to set up my own company.
By calamities, I don't mean the usual monetary moans triggered by author-publisher relationships, but cock-ups on a grand scale.
My first fiasco happened years ago with a London publishing house.
My draft manuscript was accepted at a time when literary production was conducted over glasses of sherry and lunches fortified with Bordeaux.
I was immediately attracted to the civilised, genteel culture of the industry.
I was flattered that my work was being carefully cosseted by a team of editors and art directors, honing typefaces and imagery - naturally, between more sherry sessions - leaving me believing it was a pity the rest of the world didn't operate the same way.
After eventually approving the proofs, I was handed over to the promotion manager for the nationwide launch.
I arrived in Christchurch accompanied by three boxes of books for a signing session and was greeted by a waiting crowd and TV coverage.
After an address from the store manager, I stepped forward and held aloft the new release, planning to read an extract, but froze speechless as I discovered I'd unpacked a beautifully bound book of blank pages. Frantically rummaging through the boxes, we discovered the entire stock consisted of covers filled with blank paper.
The publisher's representative and I handled the situation in a businesslike manner, by retiring to a nearby hotel and drinking ourselves under the table.
My second book-signing mishap happened more recently, and was organised by a North Shore publisher.
Turning up at a Queen St store, I was greeted by window signs misspelling my name as Peter Blomfield and found my books had been sent to the wrong city.
No wonder I've turned to self-publishing.
This week I arranged a signing session with a city store. No more business blunders!
My latest publication, printed overseas, arrived on time and my ever-efficient caregiver arranged to personally collect the package from the local post office.
Preoccupied with putting the baby back into her wagon, she forgot to load the parcel and drove off - leaving my precious cargo of books on the pavement.
Gone, God knows where.
Anybody want to go and get drunk with a despairing author-turned-publisher?