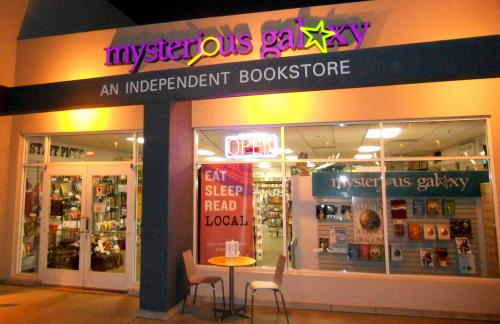 "I love these stores," author T. Jefferson Parker told Kings River Life magazine, which profiled the Mysterious Galaxy bookstores in San Diego and Redondo Beach, Calif. "Together they form not just two galaxies, but a universe of wonderful books, cool author events, solid parties and of course, smart, literate people to help you spend your money! More seriously, these are real book people and fine bookstores. Walk into one and, if you're a reader, you'll feel like you found your way home."

Kings River Life noted that one of the many things that make Mysterious Galaxy "so special is that it carries not just the usual spread of crime novels, but also fantasy, horror and science fiction. While more and more mystery bookstores carry fantasy and horror these days, the inclusion of science fiction is still rare."

"Probably one of the most exciting trends we have witnessed in our two decades of being a genre bookstore is the explosion of cross-genre works to a far more significant percentage of available titles," said co-owner Maryelizabeth Hart. "Mysterious Galaxy has always had a broad spectrum of readers, from the hardest of hard SF fans to the coziest of cozy mystery aficionados, including a healthy smattering of readers who are passionate about both, individually or combined."