By
Wynne Gray
- New Zealand Herald, 12 October 2012
Richie McCaw: The Open Side, with Greg McGee
Hachette New Zealand Ltd $49.99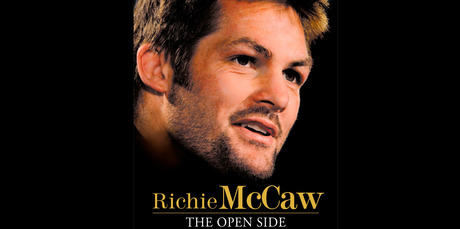 The dust jacket of this book sets the tone. There is no airbrushing on Richie McCaw; instead, there is an open, engaged look as his strong hairline frames his stubbled face.
It sets the tone for this insight into what makes the All Black captain tick, how he has dealt with all the issues which have arisen during his time with the team.
If you are looking for any great revelations or scuttlebutt, you'll need to look elsewhere.
But the more you read the more you get to grips with the triggers which have fired McCaw, the way he is driven and the principles that guide him.
There are also his views on some tasty issues such as the Graham Henry/Robbie Deans coaching choice after the 2007 World Cup.
McCaw was right in the middle, coached by both men to consistent success but able to disengage enough to separate, without any rancour or emotion, their credentials.
He felt Deans' reluctance to share the coaching authority and delegate was a telling factor in the eventual decision.
We get another take on the fallout from Cardiff 2007 when NZRU chief executive Steve Tew offers McCaw a chance to "doctor" for public consumption, part of the official report which questioned his captaincy.
Full review at New Zealand Herald