Horn of Africa's answer to Hay-on-Wye fills cultural void for young in country where 70% of population are under 30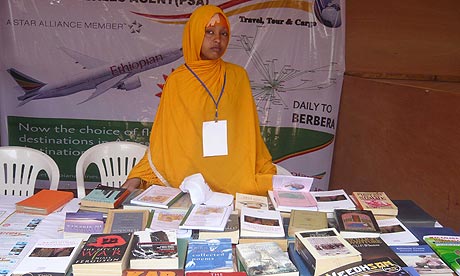 It is an unlikely spot for a literary festival, a town of half a million people with no theatre and no cinema. But Hargeisa is carving out a reputation as the Horn of
Africa
's answer to Hay-on-Wye by attracting readers and writers from around the world to its book fair.
Ensuring that Somaliland's oral tradition endures is one of the motivating factors behind the Hargeisa book fair, the brainchild of Jama Musse Jama, a senior analyst with a computer science company who lives in Pisa, Italy.
The event – now in its fifth year – celebrates not just literature but theatre, film and music, as well as showing off Somaliland's local products from fruit to its version of Coca-Cola.
Held in the working men's club in central Hargeisa, the presentations are given in a packed hall, with red, green and white streamers – the colours of the national flag – on the ceiling where the white paint is visibly peeling.
A makeshift tent outside houses volunteers, including young women wearing hijabs and backwards baseball caps, selling old paperbacks and newer ones published by the organisers.
At nearby stalls in the dusty yard, women sell large watermelons, lemons and soft drinks under bright red parasols to ward off the sun. Unlike Hay-on-Wye, armed soldiers in fatigues are in evidence. Although this is one of the safest cities in the Horn of Africa – metaphorically, it's a million miles from Mogadishu – the authorities are taking no risks.
Full story at The Guardian