Sam Frears, son of the film director Stephen Frears and literary editor Mary-Kay Wilmers, has the rare degenerative condition familial dysautonomia. This extract from a new book vividly illustrates how he overcomes daily struggles to lead a rich life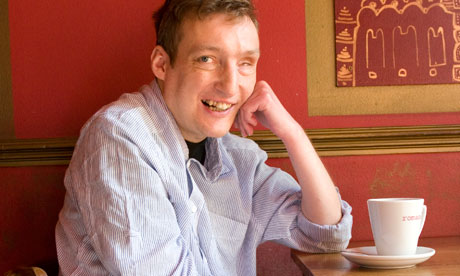 Sam Frears walks into the Trojka Russian Tea Rooms in Regent's Park Road, north London, on the arm of my friend, who has recently introduced us. This morning we're having breakfast together for the first time. Sam is 40 years old, but looks younger. His hair is thick brown, his face reminiscent of black-and-white photos from the 1970s. One eye seems partially closed behind his dark-rimmed glasses. He walks slowly but with purpose, leaning into his companion yet somehow independent of him. He puts his hand out to the table and slides his body around to his seat. He says hello and speaks with the husky lightness of a man who has lived all his life in north London. The waiter, Angelo, walks over and suggests his usual. "Hi, Sam. Black coffee?" he says in a soft voice. Sam orders the works: sausages, eggs, beans. And when they come his hand, as if it sees for him, reaches out for the ketchup. His hands are red from erratic circulation.
I notice the front of Sam's shirt is damp with saliva. One of the indignities of his condition is a problem with swallowing. He is nervous and, in a movement that will become familiar to me as we become friends, he rubs his left hand up and down against his upper right arm like someone trying to keep warm.
We are sitting at Sam's usual table by the door where the light is better. The room is painted the colour of blood. Behind us are some loud, suited men in blue shirts. At another table is an elderly woman who seems to be talking to no one in particular. Sam lives with his mother in a house across the street, and most mornings he comes over to Trojka for his breakfast. It's always a noisy morning scene here, and it's a place that features a lot in Sam's life, where he meets his father for breakfast twice a week, where he's made friends – and, simply, where he can get out of the house for a while on his own. He doesn't come with a white stick, as there's usually someone with him to give him their arm and get him across the road. Breakfast is later this morning as he's had a session with the physiotherapist. "He hits my chest to clear the stuff," Sam says, as he beats his chest and laughs.
We're meeting on the Monday after Sam's 40th birthday party. And what a party it was. It was a freezing cold February night and Sam had been told to wait for a car to take him to Shoreditch town hall. He was very nervous and only felt worse as it got later and later and there was still no sign of his cab. Then a bright yellow Reliant Robin drew up outside the house. It was Del Boy's car (or, as Sam put it: "A replica, but good enough"). This was his cab. And it was only the beginning of the surprises that awaited him. The room was packed.
The party would take in every lifelong obsession of Sam's: his love of
Only Fools and Horses
and
EastEnders
(the bar inside the hall was a copy of the Queen Vic; an actor from
EastEnders
was there to greet him at the door), his long-term crush on
Kylie Minogue
(at one point a screen came down and the diminutive Australian appeared),
West Ham United
(whose colours decorated the room). When Sam came out of the party at midnight, snow had fallen heavily and the pavement was now thickly carpeted in white. He was elated. As he said: "It was the best night of my life."
The reason why Sam was able to have such an extraordinary party was thanks to his
family
. His mother is
Mary-Kay Wilmers
, editor of the
London Review of Books
, and his father is
Stephen Frears
, the film director – and he counts many writers and actors among his friends.
Full story at The Observer