This week's poem shows us a multi-faceted Ireland through the prism of the pub, and a half-interior imaginary ramble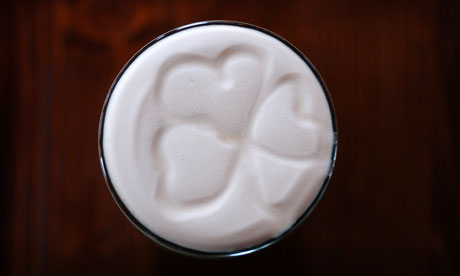 It's a month since
Bloomsday
was celebrated, but perhaps this week's poem, "Legacies" by
Peter Sirr
, will help sustain us until the next one. Sirr, like many Irish writers after Joyce, is something of an internationalist. A fine translator as well as original poet, he was born in Waterford in 1960, educated at Trinity College, Dublin, and has lived for spells in Italy and Holland. "Legacies" appears in his
Selected Poems
(Gallery Press, 2004) and was first published in Bring Everything (
Gallery Press
, 2000).
The wide cultural territory of Sirr's poems includes a multi-faceted Ireland, and "Legacies" shows us two contrasting Dublins (perhaps three, if we count the speaker's). It celebrates tradition, but not in any simplistic sense of celebration. If the legacy is dying in the 21st century (as the "nth bar" might imply) or fading into self-conscious cultural heritage, the poem subverts nostalgia by taking the form of a personal address. From a gently psychological perspective, it portrays an extrovert at ease in his ideal social setting: the pub. It's where the sophisticated city of competing identities is banished by a village-like subculture, in which difference dissolves into noisy conviviality.
Sirr's language is generally simple and direct. It's not hard to imagine the addressee nodding his head at times in cheery agreement. But of course "Legacies" is the imaginary, interior half of an imaginary conversation. This corner of the snug is also a corner of the speaker's head, and the addressee is button-holed there, but also observed and subjected to the pressures of imagination.
Peter Sirr received the prestigious Michael Hartnett award last year for his 2009 collection
The Thing Is
. You can
read more of his poems here
and
his blog, The Cat Flap, here
.
Legacies
You so love company
an engine has attached itself to your body,
taking up the night and feeding it back
as a spill of laughter
and confusion.
It takes half of what you say
and chews it up, the rest it overlays
with heavy rock, with old films,
the roar of other voices, glasses
clinking and a till slamming,
someone arguing and someone
starting to sing.
But you don't mind,
it comes with the grammar
in this dialect of intimacy,
it's how you like to live at night.
It's where your father lived
and his father before him;
it has poured down the generations,
loud and smoke-filled,
a background roar where the soul
grins; it is the city
refusing to sleep, talking to itself,
drinking too much.
What happens here would die in quiet,
melts at dawn, is absent from
the sensible rooms our friends
have retired to. They've gone
to sleep or talk, to use the language rationally,
to distinguish one sound from another:
the purr of far-off traffic, the hum
of heating and the gravity of early news.
We're listening in the nth bar
to your great great grandfather
blurt his song, to his son urge him on,
then his son comes shambling in
to wave your hands and shout for more
in your voice: more talk,
more drink, more noise
till neither they nor you nor I can tell
whose head is starting to spin,
whose voice is telling the story,
whose life it happens in.