Lead us into temptation: Why we're addicted to cookbooks
By Dionne Christian - NZ Herald - Canvas magazine - Weekend Herald 7 July 2012
Last year we spent almost $12 million on food and wine books. Dionne Christian asks what it is about cookbooks that turns some of us into addicts.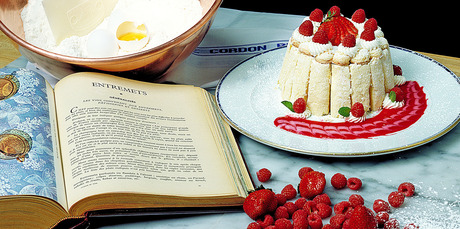 Imaginations run wild at the sight of what could be accomplished with the purchase of the latest, beautifully presented cookbook. Photo / Richard Robinson
Recently, my husband arrived home and, fixing his gaze on my latest acquisition, let out a weary sigh.
"Did you really need that?" he asked.
"That" was the latest book by Australian superstar chef Bill Granger,
Bill Cooks For Kids
, subtitled no-fuss food for the whole family.
Blond-haired and blue-eyed Bill, wearing a pristine white shirt and blue jeans, is pictured on the cover. He's smiling broadly as he mixes, by hand, a no doubt wonderful creation, which would be devoured without question or complaint by his children. His book promises, in reassuring tones and through step-by-step and easy-to-follow recipes, to solve all the problems I encounter in feeding my family. And it's going to be fuss-free - at least that's the illusion the book conjures for me.
To answer my husband's question: I most certainly did not need this book because I already have 148 cookbooks, plus every issue of
Cuisine
since 2000; most copies of
Taste
magazine since it appeared in 2006; a fair number of Australia's
Delicious
magazine; my mother's copies from the 1970s of the serialised
Robert Carrier's Kitchen
and 27 books on food, society, culture and history from my university days when I studied food sociology and history.
What I probably need more is a psychologist to help me make sense of my addiction. But I am far from alone. Last year, according to Nielsen Bookscan, we spent a staggering $11.9 million on food and wine books.
Annabel "the free-range cook" Langbein's book
was the top-seller by a country mile. In fact, her eponymous publishing company took a 23.1 per cent share of food and wine book sales, followed by Random House, Penguin Books, Hachette and HarperCollins.
Random House publishing director Nicola Legat is heartened by the fact that local cookbooks are among the best sellers in New Zealand, more than holding their own against competition from those by internationally famous chefs like Jamie Oliver, Nigella Lawson, Rick Stein and Gordon Ramsay.
"There's no doubt in my mind that New Zealand cookbooks are among the best in the world. They're beautifully designed and bound, handsomely photographed and it's our food, made by people who we trust. Their recipes work and fit in with our lifestyles," she says.
Hawkes Bay-raised
Robert Oliver
took top prize in the 2010 Gourmand World Cookbook Awards for his book
Me'a Kai: The Food and Flavours of the South Pacific
, which celebrates food and cooks from Pacific nations but also promotes sustainable food practices. Britain's
Independent
newspaper said it was the "gastronomic upset of the night".
Read the full story at NZ Herald online.
Footnote:
This is but the beginning of a very interesting article and if you didn't read it in last week's Weekend Herald then I recommend you do now.
I am of course an addict myself and I was quite staggered to find that I have almost 300 cookbooks on my shelves as well as hundreds of cookery magazines like Cuisine, Dish, Taste and others all sitting about in piles.
I agree with Nicola Legat's claim that New Zealand cookbooks are among the best in the world. I would include Australian cookbooks in there also.