The commemorative sale of Scott's polar expeditions will take place on 30th March at Bonhams in London.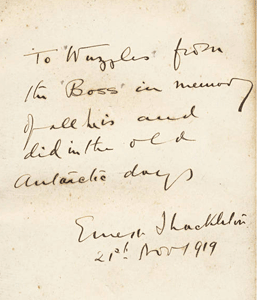 A signed copy of Cherry-Gerrard's biography of Scott, The Worst Journey in the World, dedicated to the explorer's widow, Kathleen is expected reach £15,000-20,000. Kathleen Scott (by then remarried as Kathleen Hilton-Young) staunchly defended her previous husband's reputation and has left brutally honest comments in the margins of this book on any statements which she felt to be inaccurate or critical — "Rots!" she pencils beside one suggesting that Scott's poor judgement was affecting the team's morale.

A further intriguing highlight is a signed first edition of Shackleton's South with an inscription to Frank Worsley (illustrated), the captain of the Endurance whom Shackleton calls "Wuzzles"! (£8,000-10,000).

The catalogue can be viewed online here
From
Ibookcollector
© is published by Rivendale Press Ltd.