Naked Among Wolves, Bruno Apitz's story of a boy surviving the Nazi concentration camp, is republished, reigniting dispute over fate of Roma boy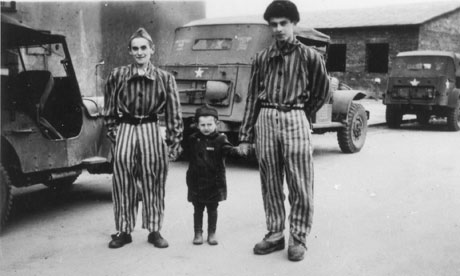 An extraordinary dispute has erupted on the eve of the republishing of communist East Germany's most widely read novel – a concentration camp drama about a group of inmates who rescue a Jewish boy from the gas chambers.
Naked Among Wolves
(
Nackt Unter Wölfen
), by Bruno Apitz, became an anti-fascist classic after the
second world war
and held a place on the bookshelves of successive generations of East Germans. There are expectations that the book, which is to be presented at the London Book Fair next month, will repeat the success of another East German title, Hans Fallada's 1947
Alone In Berlin,
which was a publishing sensation when an English edition came out three years ago.
Based in part on the author's eight-year imprisonment in Buchenwald,
Naked Among Wolves
tells of a group of communist prisoners who smuggle a Polish Jewish boy into the camp in a suitcase and protect him from almost certain death by hiding him from SS guards.
Full story at The Observer