Study by Vida shows great majority of quality-press reviews are still by and about male writers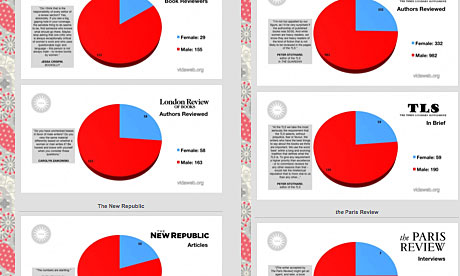 It was the year when
VS Naipaul infamously declared no woman writer to be his equal
, so perhaps it's not surprising that new research shows a huge skew towards male authors and reviewers in the literary establishment in 2011.
Vida, an American organisation supporting women in the literary arts, has compiled
statistics on the gender split in books coverage
at publications including the
London Review of Books
, the Times Literary Supplement, the New Yorker and the New York Times Book Review, each of which showed a substantial bias towards using male reviewers and covering male authors.
At the LRB last year 16% of reviewers were women (29 out of 184) and 26% of authors reviewed (58 out of 221); at the New York Review of Books 21% of 254 reviews were by women, 17 of 92 authors reviewed were female and 13% of 152 articles were by women. Of 1,163 reviews in the TLS in 2011, 30% were by women, and of 1,314 authors reviewed, 25% were women. Granta was the only publication to have more female contributors, at 53%, but much of this was down to its women-only feminism issue.
Bestselling author Jodi Picoult, who
caused a minor storm in 2010 when she hit out at the New York Times for its focus on "white male literary darlings"
, said the Vida statistics were "mystifying", given the amount of great fiction written by women, and the fact that more women buy books. "I don't know how to even the odds for female authors except to thank Vida for reinforcing what many readers had a gut feeling about; and reminding the editors of these book review institutions: We are well aware of the
gender
gap you've helped to create; now we challenge you to help fix it," she said.
At the Guardian and Observer, where over the last four weeks 37% of reviews were by women, and 25% of the books reviewed were by women, Review editor Lisa Allardice said she was "depressed but not surprised at the Vida findings, and it seems those publications with the most intellectual reputations are the worst offenders. This has got to be wrong."
"It's something as a female editor I feel extremely passionate about," she said. "We make a very deliberate effort to raise the female byline count at every opportunity."
Full story at The Guardian
.