Shelf Awareness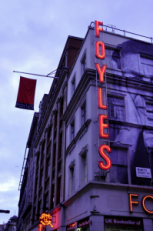 Sales at Foyles' flagship London store have risen 10% since it moved and was elegantly redesigned in 2014. In the year ended June 30, 2015, sales as a whole for the company, which has six stores, rose 4.3%, to £24.4 million (about $34.8 million), and gross profit was up 0.6%, the Bookseller reported.

The magazine noted that Paul Currie, appointed CEO in April 2015, "has overhauled the Foyalty loyalty scheme and has since embarked on a 'comprehensive' strategy to turn the business into a truly multi-channel retailer with a strong focus on customer service."

Currie said that the profit had been achieved "through careful cost control and smart operating processes. Whilst this is an improvement on 2013/14, we are still challenged by low margins in a retail sector that has heavy costs of operations and low sales density. We continue to explore ways of ensuring the sustainability of the business, through initiatives such as the successful development of our digital delivery systems."

John Browne, financial director of Foyles, added that the company is "well placed to expand further and will continue to explore opportunities to open new branches." Last September, Foyles opened a "new format" store in Birmingham.