Adam Mansbach's new picture book offers a lighthearted adults-only take on that other crisis point in a parent's day: dinner time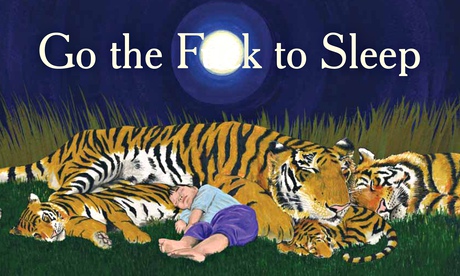 Like its predecessor, Adam Mansbach's new picture book comes with the warning that it probably shouldn't be read to children. You Have to Fucking Eat, the followup to his surprise bestseller Go the Fuck to Sleep, sees the novelist tackle another part of the unending battle of wills that is parenthood: food.
The unlikely combination of a picture book's sweet, animal-heavy illustrations and neat rhymes with words that most parents would prefer their children to avoid sent Go the Fuck to Sleep soaring to the top of bestseller lists in 2011, winning it fans from Samuel L Jackson to Werner Herzog. Jackson recorded an official audiobook, in which the actor gave voice to lines including: "The cubs and the lions are snoring, / Wrapped in a big snuggly heap. / How come you can do all this other great shit / But you can't lie the fuck down and sleep?" and "The eagles who soar through the sky are at rest / And the creatures who crawl, run and creep. / I know you're not thirsty. That's bullshit. Stop lying. / Lie the fuck down, my darling, and sleep."
Now his publisher has announced that Mansbach is tackling "the other great parental frustration: getting your little angel to eat something that even vaguely resembles a normal meal".
More