PBA Galleries – April 2 – 11am
Sale 557

Fine Americana & the Exploration of the West
Asian-American History & Art
Travel – Maps

Among the highlights:
James Cook's 'Third Voyage' of Pacific discovery, when he discovered and was killed on the Hawaiian Islands, 3 quarto text volumes and the folio atlas with 61 plates, 1785. Estimate: $15,000-$20,000.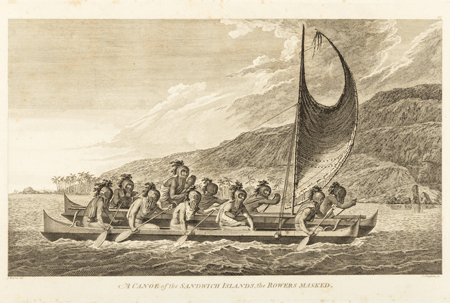 Charles Preuss' Topographical Map of the Road from Missouri to Oregon, 1846, on seven large sheets, a landmark map, based on the great Frémont/Preuss map of 1845 but in much more detail over the area depicted. Estimate: $5,000-$8,000.
The Colonial History of the City of San Francisco, by John W. Dwinelle, the 1866 third edition, with a rare folding map at rear that was not issued with the book but is sometimes present and is quite desirable. Estimate: $4,000-$6,000.
The Gold Regions of California, by George G. Foster, one of the first "considerable" accounts, the rare 1848 first edition, in the original gold printed wrappers marked second edition. Estimate: $2,000-3,000.
Each lot illustrated in the online version of the catalogue.
Bid directly from the site. Now available in the Bid Live Now section
PBA Galleries is pleased to offer over 650 lots of rare, unusual, curious, and valuable items on America and the Western Frontier, plus Angling, Asian-American History, Travel & Exploration, photographs, maps and more. The broad range of material also includes books and ephemera on China, African American subjects, the California Gold Rush, signed Presidential items, etc. etc..

Alan Turing's notebook
A rare book filled with handwritten notes by British mathematician Alan Turing, dubbed the father of modern computing, went on display in Hong Kong on Thursday ahead of a New York auction next month where it is expected to fetch more than US$1 million.
The notebook features 56 pages of Turing's thoughts on the foundations of mathematical notation and computer science, and potential buyers in Hong Kong were the first outside the US to see the papers ahead of the sale by Bonhams on April 13. The notes date to 1942, when Turing worked at Bletchley Park's code-breaking centre where he helped to break the 'unbreakable' Enigma code.

Part of the sale price will go to US gay rights group the Human Rights Campaign. Turing was prosecuted for gross indecency in 1952 because of his homosexuality, and committed suicide two years later after undergoing so-called 'chemical castration' as an alternative to prison. He was officially pardoned in 2013.

The notebook only recently came to light after it was bequeathed to Turing's friend Robin Gandy, who died in 1995. Potential buyers can see the book at Bonhams' Admiralty offices, by appointment, until Sunday.