The rare edition of Shakespeare's plays recently found in a French public library will go on show at the Globe theatre next year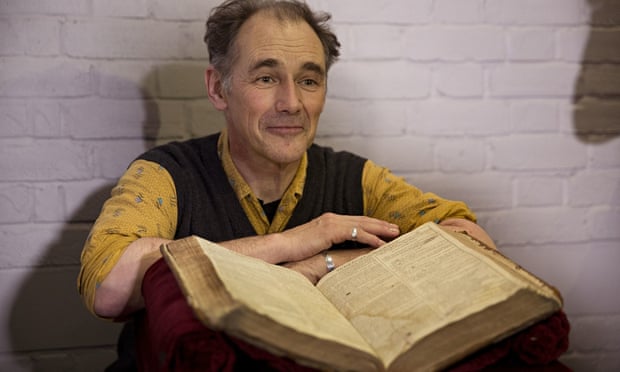 T

he actor Mark Rylance reverently touched a battered, grubby, scribbled copy of one of the rarest books in the world with the tip of one finger, and declared it "magical". The first folio of the plays of William Shakespeare, found in a public library in northern France last year, will go on display at the Globe theatre in London for two months in 2016, in a season marking the 400th anniversary of the death of the playwright.
"It is my favourite book in the world," Rylance added.
Rylance, currently mesmerising television audiences as Thomas Cromwell in the BBC adaptation of Wolf Hall, is a previous artistic director of the Globe. He said the importance of the first folio was immense.
"Without it, we would not have 17 of the greatest plays in the world, whose text does not survive anywhere else."
He thought it was appropriate it should be returning from France to the theatre reconstructed on the South Bank, within sight, across the river, of St Paul's churchyard where it was originally sold in 1623.
More