Shelf Awareness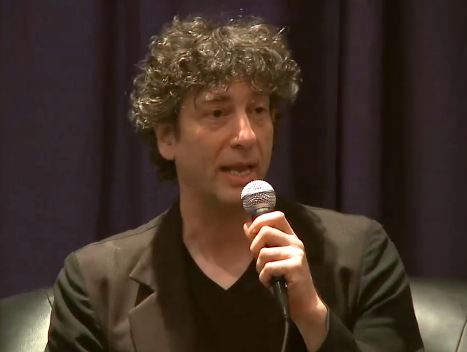 A standing-room-only crowd showed up at the Javits Center on Saturday morning to hear Neil Gaiman explain "Why Fiction Is Dangerous." The first 500 fans to arrive received a signed copy of Make Good Art (Morrow), a commencement speech Gaiman delivered at Philadelphia's University of the Arts last May, designed by Chip Kidd; and an autographed ARC of Gaiman's middle-grade novel Fortunately, the Milk, illustrated by Skottie Young (Harper, September 17, 2013).
"Fortunately, the Milk began because I felt guilty about dads," Gaiman said of his upcoming children's book. He was putting his then four-year-old son Michael to bed 25 years ago. Michael did not want to go to bed. "He looked at me furiously and said, 'I wish I didn't have a dad. I wish I had [pause] goldfish." Gaiman wrote the first paragraph of The Day I Swapped My Dad for Two Goldfish that night, then put it away. It was "technically" his first children's book. "It gets given to dads," Gaiman says solemnly. "I felt guilty." In Fortunately, the Milk, the father goes to get milk for his children's cereal and has all sorts of adventures.
The lane in England where Gaiman grew up inspired his The Ocean at the End of the Lane (Morrow, June 18). When he was eight or nine, someone told him a farm on the lane was listed in the Domesday Book, an 11th-century property survey ordered by William the Conqueror. "Have the people been on the lane for 1,000 years, too?" wondered the then eight-year-old Neil. This idea became "a weird little thing in my head," said Gaiman. The Hempstocks, who lived at the end of the lane, make appearances in Stardust and The Graveyard Book. Now the empty places at the end of the lane, where a young Neil used to go, are giant housing estates. Adapting a quote from E.L. Doctorow, Gaiman said writing Ocean was "like driving at night with one headlight out in the fog, I could see just far enough ahead to not drive off the road."
Gaiman noted that he has two books being published within two months of each other: one, a children's book with an adult narrator, the other an adult book from a seven-year-old's perspective.
He pointed out that he had not yet explained the title of his talk. "Fiction is dangerous because it lets you into other people's heads," Gaiman said. "It shows you that the world doesn't have to be like the one you live in." At the first nationally recognized science fiction convention in China in 2007, Gaiman took a party official aside and said, "While not actually illegal, science fiction is regarded as dangerous and subversive in China. Why did you say yes to a science-fiction convention?"
The party official answered, "In China, we're really good at making things people bring to us, but we don't invent, we don't innovate." When Chinese party officials visited Google, Apple and Microsoft, they asked what the executives read as children. The official continued: "They all said, 'We read science fiction. The world doesn't have to be the way it is right now. We can change it.' " "That," said Gaiman, "is the big dangerous thing." --Jennifer M. Brown