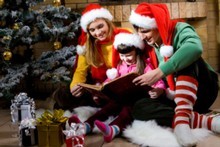 As my family know well, when it comes to Christmas shopping my local bookshop is almost always my first stop.
Books almost always make the perfect gift. They can be beautiful, challenging, inspirational, educational or simply fun. There is something for everyone.
This love of books as gifts stems from childhood, when my beloved Great-Aunt Mary acknowledged the birthdays of every one of her 59 great nieces and nephews with the same gift: a book and a box of chocolates.
I've never forgotten the anticipation of which title lay beneath the wrapping and the thrill of finally holding the cover in my hand, wondering about the world within. Aunty Mary introduced me to L.M. Montgomery, Leon Garfield, E. Nesbitt and Jane Austen. Many of her books will be passed on to my own children.
So this month we asked you to tell us which books are at the top of your Christmas wish list. Demand for New Zealand fiction is alive and well, with almost one third of our entrants choosing Bronwyn's November feature read
Rangatira
by Paula Morris. A love for New Zealand history and New Zealand fiction were popular reasons behind the choice.
Read the full piece at the
New Zealand Herald.