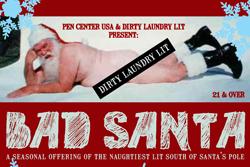 PEN Center USA and Dirty Laundry Lit present a seasonal offering
of the naughtiest lit south of Santa's pole. Hosted by Jeff Eyres,
with DJ Cazel. Readings by Darrel Alejandro Holnes, Preston Witt, C
hristopher Ross, Mecca Jamilah Sullivan, Richard Lee Warren,
and Jo Robbins. Don't miss your chance to sit on Santa's lap!
Saturday, December 3, 2011 @ 7PM (21 and over)