William Hill award won by Ronald Reng's biography of Robert Enke
• Judges praise book on goalkeeper who took his own life
• A Life Too Short: The Tragedy of Robert Enke 'outstanding'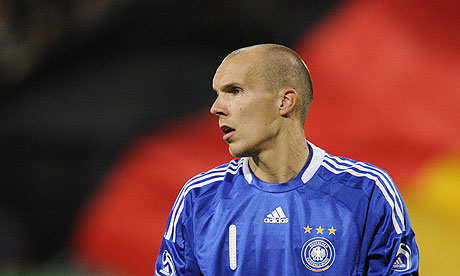 Ronald Reng has won the William Hill Sports Book of the Year Award 2011 for A Life Too Short: The Tragedy of
Robert Enke
. Reng's
biography
of Robert Enke, the German national goalkeeper who suffered from depression and took his own life two years ago, was praised by the judging panel for its powerful and insightful nature as well as its sensitivity and sincerity.
A Life Too Short tells of Enke's struggles against his own demons and brings into sharp relief the demands and fears faced by those who play top-level sport.
First published in Germany (as Robert Enke: Ein allzu kurzes Leben), Reng's book became an international bestseller. Translated into English by Shaun Whiteside and published by Yellow Jersey Press in the UK this autumn, it represents the first translated title to have won the prize.
Graham Sharpe, the co-founder of the William Hill prize, said: "Robert Enke was one of Germany's greatest goalkeepers and his tragic death shocked the world. Ronald Reng's intimate portrait – vivid, powerful and moving – is an outstanding piece of sportswriting and a very worthy winner of the prize."
Reng, a sports journalist, has written for a variety of publications across Europe and is also the author of The Keeper of Dreams: One Man's Controversial Story of Life in the English Premiership, the story of the goalkeeper Lars Leese and his time at Barnsley. Reng first met Enke in 2002. The two men became friends, and though they never discussed Enke's depression it was their intention to one day work together on his autobiography.
Reng was named the winner of the 23rd William Hill Sports Book of the Year Award at a lunchtime ceremony at Waterstone's Piccadilly. As well as a £23,000 cheque, presented by the prize judge and broadcaster John Inverdale and last year's winner Brian Moore, Reng also receives a £2,000 William Hill bet, a hand-bound copy of his book, and a day at the races.