Some suggest that the less temperate coverage on blogs offers the antidote to chronically cautious newpapers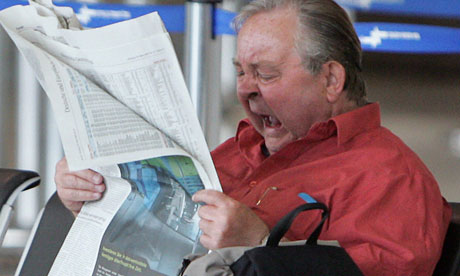 Last Thursday, I went to
the Book Club
in Shoreditch
to talk about the Not the Booker prize
, at an event organised as part of
Internet Week Europe
by publisher
Melville House
. My role was to chair a panel consisting of
Ready Steady Book
's Mark Thwaite alongside the NTB's first, second and third-placed authors (Michael Stewart, Lars Iyer and Julian Gough), and try to guide a discussion about the prize and "literary merit on blogs and in online discussion."
Before I got there, I wondered if I'd made a mistake in failing to request that I conducted my part of the proceedings from behind a plexi-glass screen. But my fears were unfounded. There was little of the – how to put it? –
excitement
that makes the Not the Booker so compelling. Happily though, there was still plenty of personality. Those who followed the prize all the way through this year may be
disappointed to learn that Julian Gough was fully clothed
, but not that he was charming. Lars Iyer pronounced on Blanchot with the same authority and wit as W does in Spurious. Michael Stewart was gracious in victory (even though he still hadn't received his Guardian mug). Mark Thwaite was an eloquent ambassador of the aforementioned literary merit on blogs.
Our talk was good-natured and we seemed to agree about most things. Perhaps unsurprisingly, we all declared that the Not the Booker was a very interesting experiment and an effective way of laying open the machinations that go into any literary prize-giving. It turned out to be such a love-in that one member of the audience berated us for being "self-satisfied" and "complacent". After that, the event became far truer to the spirit of the prize. There was passionate debate, there were complaints about "the establishment", and there were baffling asides about Foucault. But out of all that, the most consistently interesting strand was a discussion of literary reviews.
There've been
many articles and surveys recently about the genetic make-up of reviewers
. The general question has been: are there too many white males? The general answer has been: yes. But a different complaint was aired at the Book Club last week. Several people in the audience – and a few on the panel – seemed more concerned that broadsheet book reviews simply aren't good enough. Words such as bland, boring and formulaic were bandied about. Mark Thwaite landed a hard punch when he suggested that the conclusion of nearly all broadsheet and mainstream reviews was the same: that the book they are examining is "quite good". Reviewers, the suggestion was, are so careful to say things that are reasonable and fair that they end up saying nothing at all.
Full story at The Guardian.