Alison Flood, The Guardian, 27 May 2011
I'm absolutely delighted to see this classic children's author back in print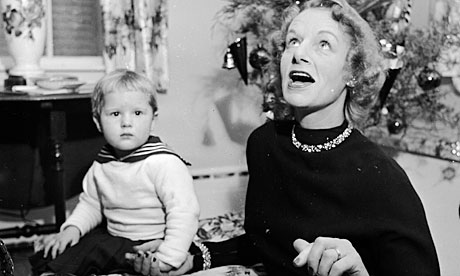 If there was a character in children's literature I most wanted to be, growing up, it was Carrie Fielding in
Monica Dickens
's World's End series. Scruffy, passionate, horse-mad, a reader, a writer and a dreamer, she lived, parent-free, in a decrepit old inn with her siblings, rescuing and caring for ill-treated animals, and occasionally, if she had to, going to school.
I read the four books in the series – House at World's End, Spring Comes to World's End, Summer at World's End, World's End in Winter – obsessively. I was desperate for there to be more. Adults are often absent from children's books, but in this case it felt like the loving, but scatty and selfish, Fielding parents' departure on a sailing trip could actually have happened. The animal rescues were daring, their plight upsetting. The characters felt so real, from the friendly, impoverished Fielding children themselves to Carrie's enigmatic friend Lester Figg, the dreadful Aunt Valentina and Uncle Rudolf and the awful (but hilarious) Hube the Boob.
And Carrie, vibrantly and cleverly and awkwardly brought to life by Dickens. I can still remember the scene where her English teacher has the class in hysterics with her overly dramatic recital of "Come into the Garden, Maud". I found when I came to study Tennyson at a later date that lines from the poem were mysteriously lodged in my head, and realised it came from Carrie's own recital: "I hate the dreadful hollow behind the little wood; / Its lips in the field above are dabbled with blood-red heath, / The red-ribb'd ledges drip with a silent horror of blood, / An Echo there, whatever is ask'd her, answers 'Death'." Are there many children's novels these days that introduce their readers to Tennyson, all without them even being aware of it? I doubt it.
They are the kind of children's books that, when you are reminded of them as an adult, you want to reread. But, having mislaid my ancient copies years ago, I've been stymied in my vague bookshop trawlings by their out-of-print-dom. Happy days, then, to learn that
a new initiative from Bloomsbury is bringing them back into print
, in ebook and print versions, together with a glorious-sounding pile of other adult Dickens novels which I haven't yet read but very much intend to (I also loved her Follyfoot children's books, but they've not yet fallen out of print).
For any other Monica Dickens fans out there, these are the books which will soon be available again: Dear Doctor Lilly, Flowers on the Grass, Joy and Josephine, Kate and Emma, Listeners, Man Overboard, No More Meadows, One of the Family, Room Upstairs, Scarred, Talking of Horses, The Angel in the Corner, The Fancy, The Great Fire, The Happy Prisoner, The Heart of London, The Messenger, Thursday Afternoons, and of course the World's End novels. I'd love any pointers, from those more expert than me, of where to start in all this wealth of Dickens, expelled from St Paul's after throwing her school uniform off Hammersmith Bridge, founder of the Samaritans in the US,
great granddaughter of Charles
– and a wonderful writer who thoroughly deserves to be available again today.
Footnote.
The Bookman extends his warm thanks to Alison Flood for her piece on Monica Dickens.
During a visit to NZ in the early 1980's, as a guest of her publishers Wm.Heinemann, I met Monica and her American husband Roy Stratton, and spent a happy weekend looking after them. I was CEO/Publisher at Penguin Books NZ at the time and we were the publishers of her adult novels in paperback.
We became great friends and over the years I stayed with them on three occasions at their home on Cape Cod and then after Roy died in 1985 I visited Monica in Berkshire in the UK after she moved there. She died on Christmas day 1992.
She was a gracious and kind woman, a wonderful host, and of course an enormously talented writer both for adults and children. I was very fond of her and greatly admired her.
A couple of asides from among many happy memories I have of Monica.
All her adult books were published by William Heinemann and in those "good old days" the long-serving MD of Heinemann, Charles Pick, used to give all his major authors a one-off leather bound edition of each of their titles when they were published in hard cover. Monica, a prolific author, had almost 30 adult titles published and she was very proud of her shelf of leather bound editions.
On one occasion after she had picked me up in the early evening from Boston airport and we were driving home to Cape Cod she fell asleep at the wheel. Fortunately I was still largely awake ( I had just flown from NZ) and was able to grab the steering wheel and get us back on the road. She was mortified and made me promise I wouldn't tell Roy.
When she was in NZ on one of several visits she was asked by a journalist why she kept carrying out author tours, she replied "when you have a name like Dickens people assume you are dead so you have to keep showing that you are still very much alive".
Monica was very keen on lobster and on two occasions after she collected me from Boston Airport we went to the famous Boston fish market on the way home to buy fresh lobster for dinner.