Carmen Callil defends decision to quit Booker panel and says dislike of author based on literary shortcomings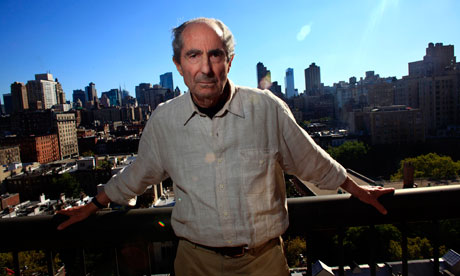 The founder of the feminist press Virago who withdrew from the judging panel of the Man Booker International prize over its decision to honour
Philip Roth
has dismissed criticism that her decision was driven by Roth's portrayal of women.
Publisher and author
Carmen Callil
caused a literary storm when she announced she had retired from the award's panel of judges because she did not "rate [Roth] as a writer at all".
"He goes on and on and on about the same subject in almost every single book. It's as though he's sitting on your face and you can't breathe," she said.
Callil's comments about the author most often tipped to win the Nobel prize in literature for the United States caused uproar. Toby Young called her a "petulant prima donna" in the Telegraph, while Observer critic Robert McCrum
wrote
that, as "an ebullient and pioneering feminist publisher from the 1970s [it's] hardly a surprise that she should find herself unresponsive to Roth's lifelong subject: the adventures of the ordinary sexual [American] man".
Although Roth's writing – always from the male perspective, often explicitly about sex – is widely perceived as containing a broad streak of misogyny, Callil told the Guardian her dislike of the author was based on what she sees as his literary shortcomings. "Feminism had absolutely nothing to do with my criticism of Philip Roth's work, or with my retirement from the judging panel," she said.
"This kerfuffle is an ad feminam attack from the boys and, of course, the odd girl, but mainly it's a boyzones attack. Take Robert McCrum, for instance, who certainly has his critics, but they, unlike him, do not have instant access to the media. Yet he feels free to badmouth me as a human being, rather than discuss the ideas and issues involved." Callil "never thought of feminism for one second" when she was considering Roth's work. "I may have founded Virago 40 years ago but I'm a creature of books, of writing," she said. "It never occurred to me and it comes as a surprise to me. I'd no idea – and I'm nearly 73 for goodness sake – I had no idea that his work was objected to because he is seen as a misogynist.
"My objections are literary. If you take his best book, American Pastoral, it is wonderful about women. If Philip Roth doesn't like someone, it is himself, not women."
Callil expands further on her dislike of Roth's writing in an article in the
Guardian's Review
, in which she describes the author's reach as "narrow ... not in the Austen, Bellow or Updike sense, because they use a narrow canvas to convey the widest concepts and ideas.