From the British Library
To mark the 400th anniversary of Shakespeare's death, this major exhibition seeks to cast new light on how Shakespeare became the cultural icon he is today through ten key theatrical performances – from the first performance of Hamlet in 1600 to a digital deconstruction for the 21st century from The Wooster Group.

Stand-out items from the British Library's collections will be on display, including the only surviving play-script in Shakespeare's hand, one of only six authentic Shakespeare signatures, and rare printed editions including the First Folio, as well as a range of film, paintings, photographs, costumes and props revealing backstage gossip and scandal.

Telling a story of struggles, set-backs and sea-changes, Shakespeare in Ten Acts will explore the changing nature of Shakespeare's reputation – from the 'bardolatry' typical of the Romantic era, to well-known Shakespeare detractors like Tolstoy - ultimately proving that his course never did run smooth.

EXHIBITION: Shakespeare in Ten Acts 15 April – 6 September 2016

http://www.bl.uk/events/shakespeare-in-ten-acts

Making waves! – highly anticipated second instalment of the Selbourne collection returns to Bonhams, London.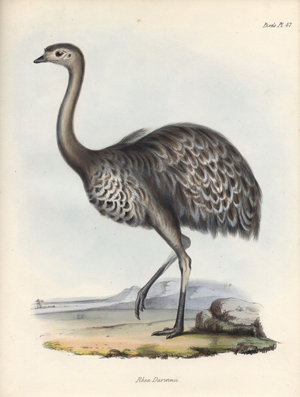 A fine first edition of The Zoology of the Voyage of H.M.S. Beagle, Under the Command of Captain Fitzroy, during the Years 1832 to 1836 (parts 1- 4) will be just one of the highlights in the highly anticipated second instalment of The Library of the late Hugh Selbourne, M.D., at Bonhams, Knightsbridge on Tuesday 8th March. Estimated at £10,000-15,000, the serialised collection was written by various authors, and edited by Charles Darwin, as an expert guide to the ground-breaking observations recorded on the Beagle voyage.

Following the immense success of the scientific section of Part One, including a scarce copy of Robert Boyle's The Sceptical Chymist, which at £362,500 (including premium) set a new world record for an Irish writer, Part Two will also be offering further rare titles, including works by Boyle, Newton, Hooke, Descartes, Fitzgerald, Dalton, Hooper, Hauksbee and Lavater.

For further details, please contact books@bonhams.com
Six Hundred Years and Counting
Throughout 2016, Cambridge University Library will celebrate 600 years as one of the world's greatest libraries with a spectacular exhibition of priceless treasures – and a second show throwing light on our more weird and wonderful collections.

Older than the British Library and the Vatican Library, Cambridge University Library was first mentioned by name in two wills dated March 1416 and its most valuable contents stored in a wooden chest. The University Library now holds eight million books, journals, maps and magazines – as well as some of the world's most iconic scientific, literary and cultural treasures, including Newton's own annotated copy of Principia Mathematica, Darwin's papers on evolution, 3000-year-old Chinese oracle bones, and the earliest reliable text for 20 of Shakespeare's plays.

The University Library is also home to a bizarre assembly of non-book curiosities, collected over centuries, including a jar of ectoplasm, a trumpet for hearing spirits and a statue of the Virgin Mary, miraculously saved from an earthquake on Martinique.

Since 1710, Cambridge University Library has also been entitled to one copy of each and every publication in the UK and Ireland under Legal Deposit – meaning the greatest works of more than three millennia of recorded thought sit alongside copies of the Beano and hundreds of books written about and by Charles Dickens, on more than 100 miles of shelves. With two million items on open display, our readers have the largest open-access collection in Europe immediately available to them.

To celebrate the University Library's 600th birthday, a spectacular free exhibition, "Lines of Thought", will open on March 11. Featuring some of the University of Cambridge's most iconic and best-known treasures, it investigates through six distinct themes how both Cambridge and its collections have changed the world and will continue to do so in the digital era.