In first major interview since winning the literature prize, novelist insists his portrayal as a Chinese 'state writer' is unfair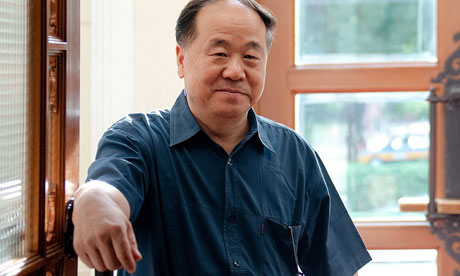 Mo Yan, winner of the Nobel prize for literature, has taken on the critics who have dismissed him for being too close to the Chinese government, saying they envy him the award and are distorting the meaning of his work.
In a rare interview – his first major public conversation since winning the Nobel last autumn – the author whose pen name means "don't speak" spoke out on a number of issues in what translator Eric Abrahamsen said was "probably as close as Mo Yan will ever come to an admission of his full political position in China".
But in an interview with the German paper Der Spiegel, Mo took on Ai's criticism that he is too close to the state and does not represent China, asking "which intellectual can claim to represent China? I certainly do not claim that. Can Ai Weiwei? Those who can really represent China are digging dirt and paving roads with their bare hands."
He also hit back at his fellow Chinese author Liao Yiwu, who last year called him a "state writer" who failed to keep his distance from the government. "I know he envies me for this award and I understand this. But his criticism is unjustified," Mo told Der Spiegel, adding that since he won the Nobel, his critics "use magnifying glasses to look for my flaws and they even distort the meaning of my poems". One particular poem attacked by Liao, he said, is not praising a disgraced party official, but is actually satire.
And Mo pointed out that while he "openly expressed the hope" that Liu be freed, "again, I was immediately criticised and forced to speak out again and again on the same issue … I am reminded of the rituals of repetition in the Cultural Revolution. If I decide to speak, then nobody will stop me. If I decide not to speak, then not even a knife at my neck will make me speak."
Full article