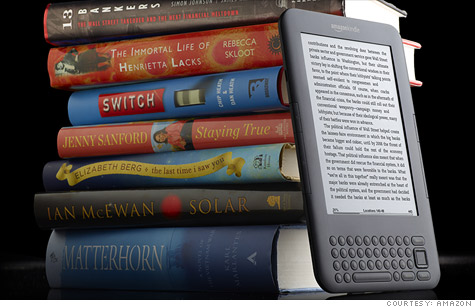 Amazon has its hands in all parts of the book publishing chain. Smaller publishers say it's a near-monopoly, but authors argue that Amazon simply offers a better deal.
NEW YORK (CNNMoney) -- Amazon's low-priced bestsellers and Kindle e-reader are famous for changing the book industry. What's not so well known is how deeply Amazon's tentacles reach into all parts of the industry, including its growing interest in inking deals with authors to publish some of the hit books Amazon sells.
Booksellers and publishers are crying foul, saying they're being cut out of the chain by an aggressive Goliath. But some authors who have recently signed with Amazon Publishing say the company simply offered them a better, fairer deal than traditional publishers.
And those Amazon deals are a boon for consumers, the authors say, because they bring earlier book releases and cheaper prices.
Amazon quietly launched its own book imprint in 2009. The effort expanded the next year into a line of foreign translations and another of "manifestos" from thought leaders, but it stayed fairly under-the-radar until this May, when Amazon brought in famed New York editor Larry Kirshbaum to head up its Amazon Publishing unit.
Kirshbaum quickly dumped gasoline on Amazon's publishing sparks: Last month, he signed uber-popular self-help author Timothy Ferriss, whose book
The 4-Hour Workweek
(published by Crown, a division of Random House) remains a perennial bestseller. Amazon plans to publish Ferriss's next book,
The 4-Hour Chef
, in April 2012, in all formats: digital, audio, and old-fashioned ink on paper.
Ferriss is the highest-profile author yet to jump ship from the traditional publishing houses, and his defection has rivals spooked.
"Amazon is holding the entire book industry hostage," says Oren Teicher, CEO of the American Booksellers Association. "First they disintermediated retailers, and now it's publishers and authors."