Shelf Awareness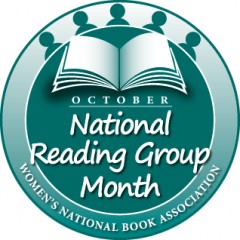 In connection with National Reading Group Month, which is sponsored by the Women's National Book Association and is designated for October, the Great Group Reads Selection Committee has chosen 21 books as this year's Great Group Reads. A complete list of the titles, recommended for reading groups at bookstores, libraries, online and elsewhere, can be found here.
The committee sought "under-represented gems from small presses and lesser-known mid-list releases from larger houses. All are books with strong narratives peopled by fully realized characters; books which perhaps have flown under the radar of reviewers and reading groups overwhelmed by the sheer number of new releases each year."
The organization is providing shelf talkers, table-top posters and other display material for download. Find the National Reading Group Month Marketing Toolkit at Get Involved. For more general information, go to NationalReadingGroupMonth.org and wnba-books.org.