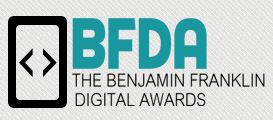 The Independent Book Publishers Association is launching the Benjamin Franklin Digital Awards, which will honor achievement in electronic book publishing by individuals and organizations of all sizes, including publishers, developers, designers, manufacturers, institutions and technology leaders. Entries will be judged in four categories: e-books, enhanced e-books, books as apps and new technologies.

The BFDA will serve as a companion to IBPA's Benjamin Franklin Awards for print. For both award programs, every entrant receives feedback from the judges regarding product improvement.

Unlike most awards, the BFDA is a rolling awards program--submissions will be accepted year round.

IBPA presents gold and silver award of excellence honorees with promotional opportunities that include announcements on IBPA's website and all social media outlets, in the monthly magazine, the Independent, to industry publications and more. Honorees will also be featured at an event at IBPA's annual Publishing University, to be held April 26-27 in Chicago.