29th March 2012 was the centenary of Robert F. Scott's final diary entry written eleven miles from safety. In a packed and energetic saleroom Bonhams' Scott and Amundsen Centenary auction took place the day after in Knightsbridge.

The "finest Antarctic association item to have ever come to auction", Scott's farewell autograph letter made £163,250*.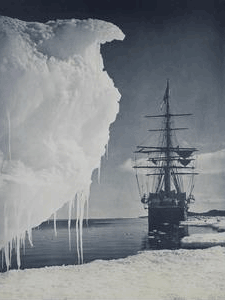 First editions of Cherry-Garland's Worst Journey of the World (one annotated by Scott's widow, Kathleen) made £23,750 and £18,750 respectively and a presentation copy of Shackleton's South dedicated to 'Wuzzles', i.e. Frank Worsley achieved £22,500.

Visual art was also a success. Of particular note amongst the photography were two images by Herbert Ponting, specifically The Freezing of the Sea and The Terra Nova at Ice Foot (illustrated) both of which exceeded £10,000 in price. Richard Short's painting of the Terra Nova leaving Cardiff and John Edward Davis' watercolour of the crew of the Erebus and Terror celebrating New Year's Day made £16,250 apiece.

Consignments are now being accepted for the second Polar sale scheduled to take place later this year.

The results can be viewed online here

*Includes buyers' premium.
From
Ibookcollector
© is published by Rivendale Press Ltd.