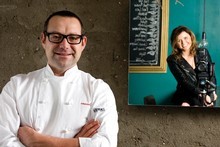 By Babiche Martens, Viva magazine, NZ Herald
Chef Michael Van de Elzen and photographer Babiche Martens sacrificed many Sundays to make their cookbook a reality. Photo / Babiche Marens
As the photographer for
Viva
, each week I get to visit some of our city's most amazing restaurants and meet some very talented people along the way. Shooting food is one of my main passions; taking a chef's creation and translating it into a picture that makes the reader drool is my challenge. And not always an easy task.
I had been vocalising my desire to collaborate on a cookbook to whoever would listen for a very long time, and it was on a
Viva
assignment to Michael Van de Elzen's Molten restaurant in Mt Eden that I casually mentioned my dream again. It seemed the timing was just right. "That's exactly what I want to do," enthused Michael, and the wheels were set in motion.
"A chef's timeline," explains Michael, "is: go to college, learn the basics, start work as an apprentice or kitchen hand, work hard. Move to a bigger kitchen - maybe overseas - gain more experience, work even harder. Rise up the ranks. If you're lucky, one day open your own restaurant with a supportive wife. Work and worry. Work and worry. Become not only a chef, but a leader, mentor, parent - to my staff. Learn about electrics, plumbing, building, accountancy. Prove your worth to every customer and reviewer who comes through the door time after time after time.
"And then, document your experiences in a cookbook!"
Michael, of course, can also throw "front a television programme" into his timeline.
But that was to come later.
Read the full piece at VIva online.
And The Bookman's review of The Molten Cookbook from last week
is here.
And comment on the book in
Dish magazine here.