Romance readers have fallen for digital formats as a way to plough through books without being judged for their covers -
Alison Flood, guardian.co.uk,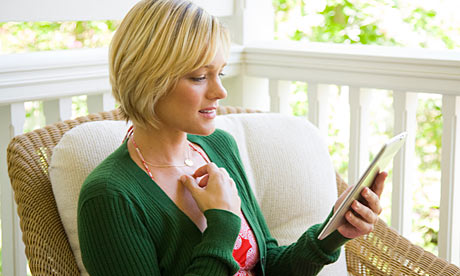 Nobody knew what to make of the slim, unprepossessing e-reader when he first came to town, all cables and corners. But as the crescendo in ebook sales swells towards a mighty roar, this electronic wizard has cast a spell over romantic fiction, and swept her off her feet.
Romance
might have a fusty, old-fashioned image – crinolines and waltzes, tycoons and secretaries – but it seems her match with digital
publishing
was made in heaven. Mainstream imprint Ebury, part of one of the UK's largest publishing conglomerates Random House, certainly thinks so, and is plunging headfirst into digital romance with a new list,
Rouge Romance
. Rouge (tagline: "Sexier, longer and 100% more romantic") is no shy first step into the market, however: it debuted last month with eight titles and has committed to publish four titles a month thereafter, to satisfy what it calls "the huge reading appetites" of romance readers.
"Digital is now 10.2% of our sales and growing fast," says Random House deputy chief executive Ian Hudson. "We have an excellent track record in digital publishing in the UK and believe that the agility that comes with direct-to-digital imprints like Rouge is an important part of keeping us at the forefront of the ebook market."
Ebury editorial director Gillian Green agrees. "We know from research commissioned by Random House and by the industry at large that romance readers have been among the first to migrate to
ebooks
," she says. "One in seven romance readers have already bought an ebook in the last year."
Master of the genre
Mills & Boon
can testify to this: the romance publisher releases around 100 ebooks a month these days – more than it does in print – after initially launching its ebook programme in September 2008. And announcing its 2010 results in March, Mills & Boon's Canadian parent company Torstar cited the "strong growth of the ebook market", with digital revenues up C$16.1m (£10m) as sales of print books declined.
The rising tide of e-reading devices – and their subsequent drop in price – has been a blessing to many, but perhaps none more so than fans of romance. No longer are they forced to conceal the covers of their latest purchases (The Sultan's Choice, say, or The Temp and the Tycoon) from fellow commuters. Instead, they can follow their heroine's romantic adventures with impunity, safely protected by the anonymity of their e-readers.
Full piece at The Guardian.