SJ Watson, Tom Franklin, Steve Hamilton and Peter James all winners of the Crime Writers' Association honours -
Alison Flood -
guardian.co.uk,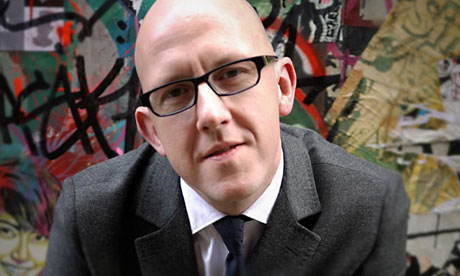 A first novel about a woman who loses her memory every time she goes to sleep has been named the best debut crime book of the year.
SJ Watson's Before I Go To Sleep
has picked up the Crime Writers' Association's John Creasey New Blood Dagger at an awards ceremony in London.
An audiologist, who turned his hand to fiction after taking a novel-writing course, Watson tells the story of a woman whose memory is wiped clean every night. Chrissie keeps a journal to remind herself of her life, which becomes a record of her husband's deception. "As I sleep, my mind will erase everything I did today. I will wake up tomorrow as I did this morning. Thinking I'm still a child. Thinking I have a whole lifetime of choice ahead of me," she writes. The novel has already been optioned for film by Ridley Scott's production company Scott Free.
Watson said he was "stunned and delighted" to win the prize. "It was such an honour to have been shortlisted for the John Creasey Dagger, but to have actually won, especially when up against such fine books, is incredible," he said. Judges chaired by the crime writer Danuta Reah chose Before I Go To Sleep over three other shortlisted titles, Kiss Me Quick by Danny Miller, The Dead Woman of Juárez by Sam Hawken and The Dogs of Rome by Conor Fitzgerald, calling it "a powerful and compelling suspense novel that explores the intricacies of the human mind".
The Specsavers Crime Thriller awards also saw Tom Franklin's Crooked Letter, Crooked Letter win the Gold Dagger for best crime novel of the year. Franklin, a teacher of creative writing at the University of Mississippi, has set his novel in the southern town of Amos, Mississippi, telling of law enforcement officer Silas Jones's attempts to find out why his estranged childhood friend has been attacked, a young woman has disappeared and the local drug dealer has been killed. "What an amazing longlist! What an amazing shortlist! I'm truly happy just for the company, and everything else is gravy. All my thanks," said Franklin, who beat AD Miller's Booker-nominated Snowdrops to win the Gold Dagger.
The Ian Fleming Steel Dagger for best thriller went to Steve Hamilton's The Lock Artist. About an elective mute with a talent for picking locks, it is, said judge Natasha Cooper, "a remarkable novel". "One of the most interesting things is that the main character never speaks, but his voice to the reader is completely extraordinary," said Cooper. "It is a very clever thing to have pulled off, this business of speechlessness and such an individual voice, and I don't think anyone else has even tried to do it."
Full story at The Guardian.