From two gems by Janet and Allan Ahlberg to a dark Roald Dahl favourite, here's a selection to send the kids off to sleep with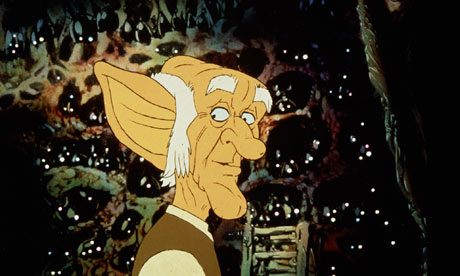 Mal Peet is a an author of young adult fiction. His second novel,
Tamar
, won the
Carnegie medal
, and his fourth,
Exposure
, won the
Guardian children's fiction prize
. He lives in Devon with his family.
"This is a very personal list and, for me, evocative. It consists of stories that my children – Lauren, Charlie and Tom – repeatedly demanded and that I loved reading to them. Unilaterally and high-handedly, I've omitted those books that delighted them but bored me comatose. It pretty much defeats the purpose of bedtime reading if you fall asleep before the kids do. And you tend to wake up with a matchbox stuck on the end of your nose and/or a potty on your head.
"I was taking my first uncertain steps towards writing for children when my own were young. Reading aloud to them taught me a great deal when I had a great deal to learn. It taught me elementary things about rhythm and pace, the necessary musicality of text. It taught me that books, not just their characters, have voices, and that some are more trustworthy than others. Although I now spend most of my time writing novels for teenagers and adults, "readaloudability" is still a criterion I try to adhere to. A sentence that clots in your mouth is unlikely to flow in your mind.
"Anyway, here's the list. Most of it will be familiar, no doubt. There's nothing recent here; my youngest child is now 25 and far too big to sit on my lap."
Peepo! by Janet and Allan Ahlberg
The nigh-on perfect picturebook for very young children. Memorably repetitive and rhythmical text, circular peepholes to anticipate what comes next and pictures packed with sly detail. One of the many things I admire in the Ahlbergs is that they understood that children are visually literate long before they are textually so; that simple language does not necessitate simple illustration. Janet's illustrations stimulate close observation, conjecture, discussion; thus a book of few words becomes a shared and rich reading experience.
Burglar Bill by Janet and Allan Ahlberg
My three fun-loving criminals were delighted by a character who helps himself to what he fancies and gets away with it. For quite some time, the words, "That's a nice hat/ball/fishfinger, I'll have that!" introduced various uproars in our household. In the end, of course, Bill gives everything back and goes straight. As did we, more or less.
It's never too soon for a parable about deforestation and its consequences. Or for messing about with language. This is the tale of the regretful old Once-ler, whose capitalist greed led him to fell a fine forest of Truffula trees and use their soft tufts to knit useless Thneeds. (Very infectious, is Dr. Seuss.) Lovely, rubbery, rhythmical language, and a message you can't argue with. Good to have your children marching up to bed chanting, "I am the Lorax! I speak for the trees!"
So memorable is the rhyming text of this one that, before too long, all I had to do was hold up the book and the children would recite it.
The BFG by Roald Dahl
Like many adults, I'm ambivalent towards Dahl; like most children, mine weren't. I was leery about Dahl's lickspittle portrayal of HM the Queen in this story – was he angling for a knighthood, perhaps? – but it's a great read-aloud, largely because of the word-mangling voice of the Big Friendly Giant and the genuine scariness of the Fleshlumpeaters (described with characteristic relish). The farting is a major plus, of course. For several weeks, everything my kids drank became frobscottle and they devoted themselves to defying gravity by means of turbocharged flatulence. A book to read with the windows open.
Full list at The Guardian.