A 'Superman' fan has donated his collection of about 17,000 pieces for a permanent exhibition dedicated to the "Man of Steel" at Cleveland's main library.

Seventy-five years' worth of 'Superman' memorabilia was sent by Mike Curtis in a truck from Arkansas to the Cleveland Public Library, where staff will put together an exhibit honoring the hero's creators.
The manager of the library's literature department said that every piece of memorabilia will be categorised and the library will apply for grants so they can preserve and restore the collectibles.

Curtis' collection includes rare artifacts dating back to as early as 1939. A majority of the items are from the 1970s. The items have varying values depending upon their condition and rarity.
Only portions of the collection will be shown at any one time. The Library are happy to speak to anybody who would like to loan them a similar item for a while to be displayed.

Sotheby's
Over the next few days, Sotheby's will offer for sale a remarkable collection of historic numismatic books, considered to be the finest private library of its kind in existence. The Collection of Patricia Milne-Henderson: Books on Coins, Medals and Antiquities will be presented in a timed online auction between 8 to 18 July 2016. Together, the 115 lots are estimated at £92,000-132,000.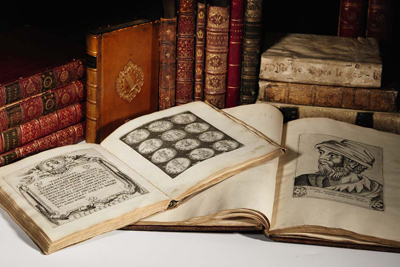 The auction provides a fascinating insight into the history of British book collecting, and takes the reader on a journey through some of the greatest libraries ever assembled. The provenance of these tomes is extraordinary, from Charles II (bound specially for his library at St. James), the Duke of Northumberland, the Earl of Pembroke, and Andrew Fletcher of Saltoun, to William Beckford, Sir William Stirling Maxwell and the Earl of Bute.
Many of the books in the collection date to the Italian Renaissance, when there was a craze for excavation and uncovering the glories of antiquity. Archaeological finds in Rome and elsewhere at this time meant that Roman coins existed in substantial quantities and were therefore widely available; they provided genuine and datable images of Roman history, art and culture in a portable form. The earliest book is Fulvio's

Illustrium Imagines

of 1517, one of the very first attempts at identifying famous faces of antiquity from numismatic evidence. A generation later, it was understood that images on coins could enhance and clarify historical knowledge, and they were used to help identify statues of Greeks and Romans. Catalogues of coins were also used by artists as sources of images and symbols, particularly for allegorical figures.
Patricia Milne-Henderson, an art historian who was married to Michael Jaffé (1923-1997, former Director of the Fitzwilliam Museum), began to assemble this comprehensive collection in the 1960s and, over the course of almost 50 years, sought out many rare and variant editions, with superb illustrations.
Christies are to auction a work of considerable scientific gravitas on 13 July 2016 in London. It is a first edition of the first printed book to propose that the Earth revolved around the Sun.



De Libris Revolutionum Eruditissimi Viridoctoris

came not from Nicolaus Copernicus, but from his only student, Georg Joachim Rhectus. When it published in 1540 it provided the momentum needed for Copernicus to finally have his landmark

De revolutionibus orbium coelestium

published in 1543.

Rheticus (1514-1574) published this first book on the subject based on his studies under Copernicus, all the while imploring his master to finally publish the master work which had been finished for 25 years. Copernicus resisted publishing

De revolutionibus orbium coelestium

for 30 years due to his fear of the Catholic Church. However when Rheticus published this book in 1540, Copernicus finally gave Rheticus the go ahead to publish the major work for him.

The copy of

De Libris Revolutionum Eruditissimi Viridoctoris

is expected to sell for between £1,200,000 and £1,800,000. It is expected that the work will exceed its estimate as the last time a copy came to auction was at a Sotheby's New York auction in November, 1989.

Children's Book
At a local book fair in Brisbane, Australia a rare 91-year-old book of

Grimm's Fairy Tales

worth an estimated $6,000 has been discovered. Hansel and Gretel and Other Stories by the Brothers Grimm was donated to Brisbane's Lifeline Bookfest and discovered by the coordinator Roy Firth. The 276-page book is bound in ivory cloth with designs in gold and turquoise-blue on the front. It also includes twelve tipped-in colour plates with captioned tissue guards by Danish illustrator Kay Rasmus Nielsen.

The twenty three fairytales was, at the time of its publication only offered to the luxury market. This particular copy was number 43 of 600.