Shelf Awareness
In anticipation of this Sunday's release of Harry Potter and the Cursed Child Parts One and Two, more than 300 Potter fans gathered last Thursday for a massive flash mob, or "
Muggle Mob
," on Broadway in front of Scholastic's Manhattan headquarters building. The fans, all Scholastic employees and their children, flooded into the street reading from a favorite Harry Potter book and stopping traffic in the busy SoHo area.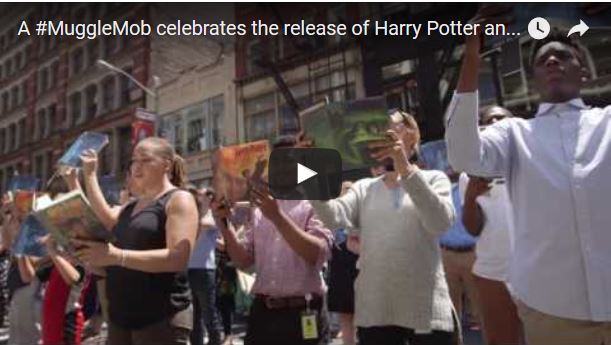 At the culmination of the event, the fans lowered their books and raised paddles showing the cover of the new book, drawing cheers. As the crowd dispersed, Muggle Mob participants gave away their copies of titles from the Harry Potter series to passersby.
"What better way to celebrate the release of the eighth story and start the countdown to the biggest publishing event of the summer than to gather a flash mob of dedicated Harry Potter fans eager to share their love of books and reading," said Ellie Berger, president, Scholastic Trade. "We could feel the excitement and anticipation as hundreds of people were reading and one of the busiest streets in Manhattan came to a standstill. It was an incredible moment and we can't wait until July 31st!"