Audubon's The Birds of America.
In 1827, Lady Isabella Hertford decorated her Chinese Drawing Room at her mansion in Leeds with 28 pictures from John James Audubon's The Birds of America.

The book – of which there are now just 119 copies in existence – had been given to Lady Hertford by her lover the Prince of Wales, who later became King George IV. Experts believe that the book could have fetched about £7m at auction today if it had been kept intact.

Its images include six birds which are now extinct. Of the copies left, 107 are believed to be in collections at institutions while the remaining 12 are in private hands.

Temple Newsam House, in Leeds is now open to visitors and the drawing room with the 'special wallpaper' can now be seen.

National Library of Scotland
At the NLS a new map viewer compares Scottish land use in 1930s with today. This new viewer is in collaboration with Historic Environment Scotland, and allows 1930s Land Utilisation Survey maps to be compared to the 2015 Historic Land Use Assessment Layer (HLA).

The HLA layer has been deliberately coloured to closely match the six main categories of the 1930s Land Utilisation Survey and shows striking changes in Scotland's land use during the 20th century, including afforestation and expanding urban areas. At the local level, new reservoirs, roads, and significant changes to patterns of farming can be seen.
———————————


From a British Library Blog
Cataloguing begins on the Joan Littlewood Archive. The Joan Littlewood Archive takes up three inconspicuous bays of storage, just shy of one hundred boxes in rather uniform box-files. We're not supposed to talk about dusty archives these days but more than one member of the department introduced me to the collection mentioning it as 'the dustiest collection I have ever seen'. This, it turns out, is incredibly accurate but the contents of the collection promises to be as vibrant and interesting as Joan was herself. Joan Littlewood and her company were an incredibly important part of post-war theatre and opening up her collections will be invaluable to many people.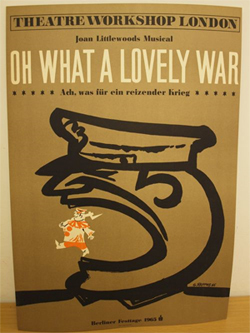 Joan began her theatre career at RADA – which she attended on a scholarship – but despite very promising beginnings she quickly dropped out, stifled by the stuffiness. Seeking what she imagined to be a 'truer' theatre experience Joan walked from London to Manchester, sleeping in hedgerows and eating foraged turnips.
Following her arrival she joined the Manchester Repertory but again, despite high praise, she quit after just two seasons. From Manchester she wrote for the BBC (before being temporarily banned for her communist allegiances) and then began Theatre Union with her then husband Ewan MacColl. Theatre Union later developed into the Theatre Workshop for which Joan is most renowned and which eventually settled in the Theatre Royal, Stratford, where during the early years much of the company essentially squatted. Theatre Workshop's most famous out-put included: 'Oh What a Lovely War!', 'A Taste of Honey' and 'Fings aint wot they used t'be' as well as producing the first British production of Brecht's 'Mother Courage and her Children'. However, the scope of Theatre Workshop is far wider than these pieces and it is incredibly exciting to gain a greater understanding of the company as the collection unfolds.
The collection contains what you might expect of a personal archive of this sort: lots of correspondence, personal and professional, accounts of the theatres and productions, diaries, photographs, posters and scripts. What is initially striking is the organisation and annotation from Joan herself, she is incredibly present in her collection. Half I think as she organised her papers in order to write her autobiography but also with the knowledge that her papers would likely be of interest after her death. Her interference is both helpful and unhelpful to the cataloguing process. She adds detail and colour to events, clarifies names and organised a lot of her correspondence chronologically. But, she is also annotating things with a reflective eye, sometimes even copying out early diaries and editing them. Luckily, she has very distinctive hand-writing and tends to use capitals for her later additions and sometimes her control slips and little glimpses of an unguarded Joan peek through.
For more information please see the British Library website.