Shelf Awareness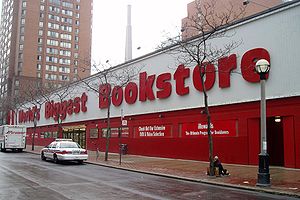 Chapters World's Biggest Bookstore will close in February because the downtown Toronto site is being sold to Lifetime Developments. David Cole, owner of the property and son of the late Jack Cole--who founded Cole Books in 1980--told the Star "the story that his father was adamant that the site would always house a bookstore is an urban legend."

Hints that the the 64,000-square-foot bookstore might be on the endangered list appeared back in June 2012, when reports surfaced that Indigo might not renew its lease, though the company denied it at the time and said it was trying to work out a deal with the landlord.

"You have to look at your portfolio on an ongoing basis, and we have a very large store at the Eaton Centre," said Drew McGowen, v-p of real estate and development for Indigo Books & Music, citing the end of the lease and prospect of higher rent. "This isn't us in a mode of shutting down stores. We will be going back out in the market and looking for some net new stores."

Describing the World's Biggest Bookstore as "a brash, quirky retailer that for a long time anchored Toronto's retail landscape," the Star wrote that Indigo "had been leasing the site for about $1.5 million a year, or $24 per square foot." Indigo said it will attempt to find positions for some, though probably not all, of the store's 43 staff members, "many of them long-serving and deeply knowledgeable about books," the Star noted.

"That's really sad, I can't believe it," said Ben McNally, owner of McNally Books on Bay St., adding that for all bookstores, "Our biggest problem is Amazon. My business is pretty good because so many bookstores are going out of business. And I work like a maniac."