Mark Ovenden offers a fascinating look at the evolution of the London underground's visual identity
This year marks the 150th anniversary of the first London underground line, the Metropolitan. The Met is being celebrated mainly for its engineering, and it is commonly thought that, having heroically dug their giant trench from Paddington to Farringdon, the pioneers weren't too bothered about conceptualising the look of the thing. Illustrations do suggest that the early surface buildings were perfunctory and disparate. But in this authoritative chronicle of underground design, Mark Ovenden detects "early examples of corporate branding": for example in the consistent use of large gas globes to contain gas lights.
Some of the first pictures in this book – which bristles with photographs I've never seen before – show how London's commercial free-for-all obstructed the early fumbling after coherence and clarity. A shot from the 1870s of the facade of Victoria underground station shows what Ovenden calls a "shouty" hoarding for "TP Beattie, Specialist in Plumbing and Sanitary Engineering" as almost upstaging the station name.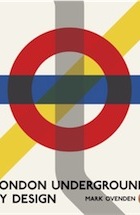 Real aesthetic progress began with the advent of the deep-level lines, the tubes properly so-called, in the 1890s. To counteract claustrophobia, both the City & South London (which would later become the Bank branch of the Northern line) and the Central had bright, white-tiled stations. The idea – probably inspired by the decor of public lavatories – was copied on the Paris Métro. Other tubes were built during the Edwardian period by Charles Tyson Yerkes. He was an American fraudster and philanderer, but also a great benefactor to London, not least through his employment of architect Leslie Green, most of whose stations survive in central London. The exteriors are covered in tiles usually denoted as "oxblood" (purple-red); the ticket halls are predominantly a deep, relaxing green, with art nouveau swirls. Below ground, each station had – and has – its own colour scheme, for the benefit of illiterate passengers.
Full article