Patients in England with mild to moderate concerns, including anxiety and panic attacks, will borrow books from local libraries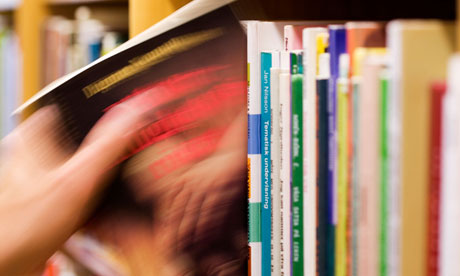 People in England with mild to moderate mental health concerns, including panic attacks, anxiety and depression, are to be prescribed self-help books which they can borrow from their local library.
Titles such as The Feeling Good Handbook, How to Stop Worrying and Overcoming Anger and Irritability will be among the 30 prescription titles that libraries across England will stock in an attempt to improve the wellbeing of the nation.
The scheme was announced on Thursday at the British Library and has been developed over the past year by the Reading Agency charity. Its chief executive, Miranda McKearney, said of the project: "There is a growing evidence base that shows that self-help reading can help people with certain mental health conditions to get better."
She said 6 million people in the UK suffered from anxiety and depression, and around two thirds of those people were not receiving any treatment.
The Books on Prescription scheme is being rolled out across GPs' surgeries and libraries in England in May and is based on a similar scheme in Wales pioneered by the Cardiff-based clinical psychologist Professor Neil Frude.
Denmark has gone down the same road and Frude said New Zealand had just become the first country in the southern hemisphere to take it up.
"It is wonderful that it's spreading," he said. "I'm a little disappointed it has taken this long to get to England to be honest."
Frude first set up the scheme in Cardiff in 2003 and the Welsh assembly took it nationwide in 2005. It was borne out of frustration at knowing the value of the books, but knowing that so many people either weren't aware of them or could not get hold of them. It was a simple idea, he said. "The doctors are already there, the books are already there and so are the libraries. It just needed joining them up."
In Wales now, 30,000 self-help books are borrowed every year and three of the 10 most borrowed books in the country are self-help.
Full article