From My Shelf
Lately there's been a flood of books about Jane Austen. I wondered why, so I asked a few of our reviewers. Natalie Papailiou noted, "Austen's work is just as relevant now as it was when it was first penned. You're a smart, sassy gal trying to do it your way and a bunch of glamourpusses are trying to steal your man. Austen's work speaks to something vital in all women. There are so many expectations and restrictions placed on us as women (yes, even today), and her heroines always seem to have a dash of the unconventional (in varying degrees). Perhaps reading Austen makes you realize that you have the power and freedom not to have to rely on a man for your very survival as the women in her novel did. It's paradoxical." Additionally, the books are "fun, enjoyable and awesome." Nancy Powell wrote, "She remains the original chick lit writer with the most crossover appeal... and a pioneer of the conversational aside. And the greatest writer besides Shakespeare."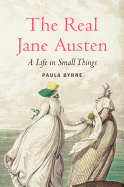 Today's issue features Nancy's review of What Matters in Jane Austen. Earlier this week, we reviewed The Real Jane Austen: A Life in Small Things, which examines the minutiae of daily 18th- and 19th-century life to shed new light on the beloved author. Recent issues have covered The Missing Manuscript of Jane Austen, in which an Austen scholar unearths a lost manuscript in an English manor house, with the help of the house's handsome owner; A Dance with Jane Austen: How a Novelist and Her Characters Went to the Ball, a beautifully illustrated exploration of dance in the life and novels of Austen; The Jane Austen Marriage Manual, in which an Austen devotee sets out on a mission to marry for money; and Midnight in Austenland, a mystery set in a theme resort where one wears empire gowns, flirts modestly and lives like Elizabeth Bennet.
If one measures an author's worth and popularity by the quantity of homage-driven books, Jane Austen surely ranks in the very top.
--Marilyn Dahl, reviews editor, Shelf Awareness