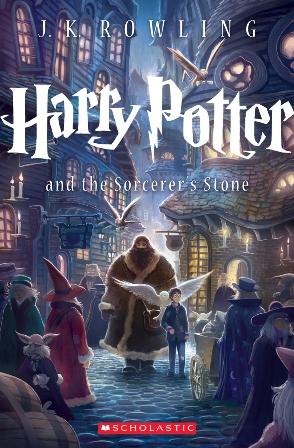 Fifteen years after making his first appearance in the U.S., Harry Potter is getting a makeover. Kazu Kibuishi, the Eisner-nominated creator of the Amulet series, will refashion the covers of all seven Harry Potter books by J.K. Rowling for U.S. trade paper editions, Scholastic has said.
All seven paperbacks will be released in a boxed set in September, the anniversary of Harry Potter and the Sorcerer's Stone's American release. Mary GrandPré's original artwork for the U.S books will continue to appear on the U.S. hardcover and digest paperback editions. Kibuishi, who has chosen "a distinctive and memorable moment" from each book to grace its cover, said in a statement, "As an author myself, I tried to answer the question, 'If I were the author of the books--and they were like my own children--how would I want them to be seen years from now?' "
In November, Scholastic will release the first boxed set of the complete Hogwarts Library in the U.S., to include Quidditch Through the Ages, Fantastic Beasts and Where to Find Them and The Tales of Beedle the Bard. Sales of the Hogwarts Library will support two charities selected by Rowling: Lumos, a charity founded by Rowling, that works to end the institutionalization of children, and Comic Relief, a U.K. charity that strives to create a just world free from povert
y.
Shelf Awareness