TV film focuses on writer's last days in New York and shows how drink turned possible triumph into tragedy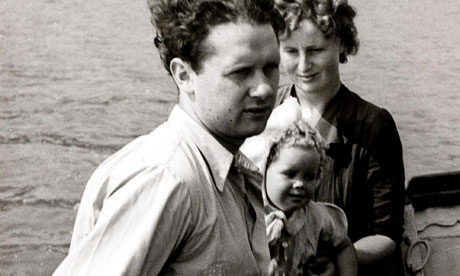 His death aged just 39, after a life blighted by drink and poverty, deprived the literary world of one of its most beautiful and original voices. Now the BBC and screenwriter Andrew Davies are to tackle Dylan Thomas's last days in a TV biopic to mark the centenary of his birth.
A Poet In New York will be a 75-minute film about the time Thomas spent in the US during October and early November 1953, with a location shoot planned. Made by fellow Welshman Griff Rhys Jones's production company Modern TV for BBC Wales, the drama is intended to air on BBC2 on 27 October 2014, 100 years to the day since the birth of the writer best known for his radio "play for voices" Under Milk Wood, as well as his poems about mortality And Death Shall Have No Dominion and Do Not Go Gentle Into that Good Night .
Davies, one of the UK's most prolific and successful screenwriters, with credits including Pride and Prejudice, House of Cards and The Tailor of Panama, told the Guardian that actor Toby Jones was a candidate for the part of Thomas, which has yet to be cast. Jones has portrayed real life figures including Truman Capote and Karl Rove.
But he said he needed to finish the script before a decision was taken. "I don't think we can get someone who looks like him – he was so distinctive. The voice is impressive too – but oddly he doesn't sound Welsh. I think he had elocution lessons when he was younger."
Full story at The Guardian