Desperate Dan, Korky the Cat and Bananaman will live on in digital edition of publication symbolising British childhood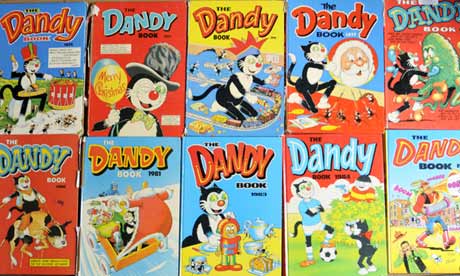 The first edition of the Dandy Comic cost just tuppence – and there was a free whistle on the cover, too. But 75 years on Desperate Dan, the title's best known character, has leered out of the lower shelves in the newsagents for the last time. On Tuesday the world's third-longest-running comic magazine will switch to online publication. Each new digital edition is expected to cost a little over a pound if bought singly – and there will be no free whistle.
Yet, according to DC Thomson & Co, the comic's Dundee-based publisher, Dan the cowboy has not eaten his last cow pie, and many of the other inhabitants of its pages, including Korky the Cat and Bananaman, will live on online.
Whether one of the great surviving symbols of a traditional British childhood can go on to thrive in a new medium will depend on the number of fans who take out subscriptions next week. The print title came out every week from its launch in 1937 until 1941, when paper shortages forced it to alternate weeks with sister title the Beano. By 1949 it had gone back to weekly editions and a year later it changed its name to simply the Dandy – the first in a series of infrequent efforts to modernise. With a circulation of 2m in 1950, the Dandy became the world's biggest-selling comic.
Now at the end of an "absolutely crazy" week preparing the secret contents of the new website, its 62-year-old archivist and former editor, Morris Heggie, said he believed the best was yet to come. "It is great fun," he told the Observer. "It is a long time since I have had sleepless nights over the Dandy, but this new site is classic Dandy and just fabulous. I think everybody will be surprised as to how it has been managed."
Heggie is enthusiastic, but admits his heart remains with the print edition: "I know all the reasons for the change, but I am a paper person.
"I grew up with a paper comic as a kid and then I edited it. I even loved the bad-quality paper after the war." Heggie said the look of the original pen-and-ink illustrations has never been bettered. "Nobody works in that style any more, although they try to replicate it on a tablet."